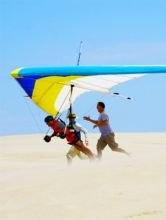 We've got a full slate of events and activities in the coming week so, without further ado...
The Outer Banks Center for Wildlife Education in Corolla has a stimulating program of activities scheduled for the 2013 season, and it gets off to a great start this week. Thursday, May 16 from 8:30 a.m. to 10 a.m. grab your binoculars and go birding with Early Birds, a beginners' class (for ages 14+) focusing on basic observation techniques, identification and behaviors of local and migratory species commonly found in the Northern Outer Banks. Later, from 3 p.m. to 3:30 p.m., bring the little ones to the theater for Fish Stories, a fishy-good story time activity (ages 3 to 6).
On Friday, May 17 from 2 p.m. to 2:45 p.m. try your hand at Gyotaku, the Japanese art of fish printing (for ages 7+). Make your own fish print and learn about the history of this ancient art form.
If you've ever been curious about what lurks below the sometimes murky surface of our sound waters, then sign up for the Sound Sampler activity Saturday, May 18 from 2 p.m. to 3:25 p.m. and find out by using different nets and traps. Bring water shoes for wading, and be prepared to get wet and dirty. The four events listed above are scheduled over the next seven days, but each will also be offered multiple times throughout the summer. Consult the website for complete times and dates. All events are free, but pre-registration is required. For reservations, book online or call (252) 453-0221, extension 1.
One of the treats visitors to the Outer Banks most look forward to is the chance to partake of the bounty of our coastal waters prepared by chefs, or just plain good cooks, who really know how to prepare it best. But what if you could learn to make Coastal Carolina dishes in your own kitchen? Here's how. Sign up for the Coastal Carolina Cooking Demonstration Class hosted by Outer Banks Restaurant Tours at the Outer Banks Wedding Library in Southern Shores on Thursday, May 16 from 10 a.m. to 11 a.m. Chef Amy Huggins Gaw of Outer Banks Epicurean will teach you how to prepare healthy dishes, Coastal Carolina style and then treat you to delicious, tapas-sized samples of the dishes she's prepared. Recipes will be provided. Pre-registration is required, and the maximum number of participants is 12. Tickets are $35/person. Open to ages 10 and older; minors must be accompanied by a parent.
Nags Head Pier in Nags Head will be the site of the 4th Annual Outer Banks Shootout (Thursday, May 16 through Saturday, May 18), a one-of-a-kind professional/amateur surfing and body boarding contest. Entry fees range from free to $100, depending on skill level, with more than $8,000 in cash and prizes available. Pre-registration is required. See the website for entrance fees and registration information.
Kitty Hawk Kites is sponsoring the 2013 Hang Gliding Spectacular and Air Show, which will run from Friday, May 17 through Monday, May 20. Join professional hang gliders, fans and families at Jockey's Ridge State Park for the world's longest running hang gliding competition! Competitions will be held daily. The event is free for spectators and activities are scheduled each day of the event. For more information or to participate, please visit the Hang Gliding Spectacular website.
The 11th Annual Coastal Gardening Festival will be held Saturday, May 18 from 9:30 a.m. to 2:30 p.m. at the Baum Senior Center in Kill Devil Hills. Sponsored by the Dare County Extension Master Gardener Volunteers in association with the Dare County Center of North Carolina Cooperative Extension, this year's theme, "A Beautiful Garden is a Work of heART," describes the growing relationship between the master gardeners and Outer Banks artists. Artists and their works will be positioned throughout the Outer Banks Arboretum adjacent to the Baum Center, and numerous vendors, exhibitors, displays and demonstrations will also be on the Baum Center grounds. For more information, call the Dare County Extension office at (252) 473-4290.
On Saturday, May 18 join hands with fellow Outer Bankers supporting cleaner, renewable energy sources at the 2013 Hands Across the Sand, Outer Banks event, just south of Jennette's Pier in Nags Head at 12 p.m. Hands Across the Sand is an international movement to support clean energy (such as sun, wind and wave power) and oppose continued fossil fuel use. Drilling and seismic testing related to fossil fuels are extremely problematic for coastal communities like the Outer Banks that depend on clean beaches and water to maintain tourism income and healthy charter and commercial fishing industries. To participate, line up on the beach, to the right of the pier, and join hands with the person next to you.
The Dare County Relay for Life 3rd Annual Cupcake 5k will take place Sunday, May 19 at 8 a.m. at First Flight Middle School in Kill Devil Hills. This year, the field has been opened to accommodate more runners and walkers, and the event will be professionally timed! Everyone will receive a finisher medal and awards will be given to top finishers within each age group and top overall runners. Pre-registration is required. Consult the event website for entrance/registration fee. Run because you survived cancer, run because you survived as a care taker, run in honor or in memory of a loved one or close friend, or just come run and support a great cause!
Also taking place on Sunday, the Mustang Music Festival Spring Jam, a fundraiser for the Corolla Wild Horse Fund, is a great way to kick off the season on the Outer Banks with smoking hot blues, jazz, soul and rock and roll. Stop by the covered deck at Mike Dianna's Grill Room at Timbuck II in Corolla from 2 p.m. to 11 p.m. Enjoy great food, cold beer and fine wine while listening to some of the best live music the Outer Banks has to offer. Don't miss the opportunity to "meet a mustang" - gentled mustangs from the wild herd will make an appearance on the festival grounds! Tickets are $12/person in advance; 15/person at the gate. Kids 12 and younger are admitted free!
Need a good read? Duck's Cottage Downtown Books in downtown Manteo will host the official book launch for the new Sea Grant title North Carolina's Amazing Coast on Tuesday, May 21 from 2 p.m. to 5 p.m. Written by a team of authors, including the Outer Banks' own Terri Kirby-Hathaway, the book is an informative, fun and fact-filled resource that covers the flora, fauna and natural history of the North Carolina coast.
So many possibilities, so little time...

This week you have a chance to win a $50 gift certificate to Peppercorns Restaurant and two tickets to The Comedy Club of the Outer Banks!
For more information about Peppercorns Restaurant, click here.
For more information about The Comedy Club of the Outer Banks, check out their website.
Last Week's Winner
Congratulations to Rita Kostoff!!!

You won a $50 gift certificate to Ocean Annie's Craft Gallery and an evening cruise for two on the Crystal Dawn!
For more information about Ocean Annie's Craft Gallery, check out their website.
For more information about Crystal Dawn, check out their website.