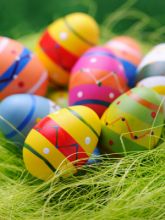 A couple of months ago I found myself standing in Glenn Eure's Ghost Fleet Gallery in Nags Head admiring the art and feeling, well, a little humbled. But this was not a typical exhibition of the works of trained and experienced adult artists. This was the annual Dare County Schools Art Exhibition, a show comprised entirely of works created by local students from kindergarten through grade 12.
It was a show full of energy, surprisingly sophisticated color choices, a conspicuous lack of self-consciousness and an overall sense of fearlessness that often only the young possess. And joy...there was a lot of joy on those gallery walls. And there I was, a graphic designer deep into a 20-plus-year career, an artist and a photographer, standing in front of the work of a 9-year-old elementary school student thinking, "Wow! I wish I'd done that!"
Sometimes adults look upon this younger generation, with their smart phones and Twitter accounts and Twilight movies, as technologically gifted yet tragically shallow, and despair for the future. But perhaps we are unfairly judging the merely different as lesser. A weekend ago I attended the Manteo High School production of The Sound of Music and, as one would expect, there was significant talent onstage. But there was also overwhelming evidence of an impressive amount of hard work, dedication and camaraderie coupled with the courage to put it all on the line in front of hundreds of people each night. And these characteristics combined with their openness to new ideas, receptiveness to inconvenient truths and tolerance of diversity, may lead them to become better caretakers of the future than we, their elders, could ever have hoped to be.
Another opportunity to witness the talent and expression of our community's young people comes Thursday, March 28 with the opening of the Dare County High School Student Art Show at Roanoke Island Festival Park Art Gallery in Manteo. The exhibit is open daily from 9 a.m. to 5 p.m. and runs through Friday, April 26. The exhibition features the work of youthful artists attending each of our three local high schools and includes ceramics, stained glass, wood and fiber art, mixed media, digital art, printmaking, sculpture, paintings, drawings and photography. Come check it out. You may found yourself pleasantly humbled...and maybe a little inspired too.
On Friday, a couple of events welcome the Easter Weekend from opposite ends of the Outer Banks. The Easter Arts & Crafts Show will be held at Indian Town Gallery in Frisco from 10 a.m. to 5 p.m. The band Water High will perform from 1 p.m. to 3 p.m., and Steve Groves will be on hand cooking ribs and barbeque.
Meanwhile, Whalehead in Corolla will be the site of Easter Eggstravaganza, a traditional egg hunt event that includes Pin the Tail on the Bunny, face painting, egg and spoon races, bean bag toss and a jellybean counting contest! Snacks and refreshments will be available for purchase. The event runs from 1 p.m. to 3 p.m. Admission and parking are free.
Saturday offers a couple of notable Easter-themed events. The Sea Turtle Egg Hunt at the North Carolina Aquarium on Roanoke Island, held from 9:30 a.m. to 11 a.m. and again from 11 a.m. to 12:30 p.m., combines an educational program about endangered sea turtles with a traditional egg hunt. Children aged 3 to 7 will come face to face with a loggerhead turtle, make a craft to take home and hunt for treat-filled eggs. Admission is $10/child; $9 for NC Aquarium members. Pre-registration is required.
The Elizabethan Gardens holds its own Easter Eggstravaganza on Saturday from 10 a.m. to 2 p.m. The Easter Egg Treasure Scavenger Hunt boasts more than 2,000 colorful hidden eggs. Live bunnies, crafts, a bake sale, egg rolls, an Easter bonnet contest, story time and educational games round out the kid-friendly fun. Grown-ups can hunt for savings at the Easter Egg Hunt Sale in The Gardens Gift Shop. Selected plants will also be on sale. Garden members are admitted free; standard admission applies to non-members; children younger than 5 will be admitted free accompanied by an adult. For more information contact The Elizabethan Gardens at (252) 473-3234.
Saturday also offers a couple of unique music events. The UNC Greensboro Miles Davis Jazz Band will perform in the film theater at Roanoke Island Festival Park from 7 p.m. to 9 p.m. as part of the park's Performance Series. Tickets, which may be purchased in advance at the Visitors Center or at the door on the night of the event, are $10/adults and $5 for children 6 to 12. Children 5 and younger are admitted free.
The Outer Banks Forum brings guitarist Livingston Taylor to First Flight High School in Kill Devil Hills on Saturday at 7:30 p.m. Taylor performs material from a wide range of musical genres, including folk, pop, gospel, jazz, classical and Broadway.
At 2 p.m. Sunday the Cotton Gin in Jarvisburg on the Currituck mainland will hold an Easter Egg Hunt on their North Lawn for children 10 and younger. Some eggs will contain discounts for up to 50% off Cotton Gin merchandise! The Easter Bunny will be available for pictures, so don't forget your camera. The event is free.
Not to be outdone, Hatteras Realty in Avon will hold its 7th Annual Hoppin' Hatteras Easter Egg Hunt on Monday, April 1 from 11 a.m. to 2 p.m. The free event includes hot dogs and sweet tea, an Easter bag, kid's craft project, face tattoos, a "Bunny Hop" race with prizes and a special appearance by the Easter Bunny! Donations will go toward the OBAR Stewart Couch Memorial Scholarship Fund. Please find a donation box at event.
Looking for something for the kids to do during Spring Break? Send them to Jennette's Pier for Spring Break at the Pier! Monday, April 1 through Friday, April 5 from 9 a.m. to 3 p.m. daily, participants will explore the ocean, learn about fish and other marine organisms, fish off of the pier and participate in beach games and ocean-oriented crafts. Day campers should dress for the weather and bring a bag lunch every day. Pre-registration is required as space is limited to 12 day campers aged 5 to 10. The fee for the week is $145/camper.
Even in these days of hi-tech toys, a kite can still be a magical thing. On Tuesday, April 2 gather up the family and head up to the Fun Fly Festival at Whalehead from 10 a.m. to 1 p.m. Learn how to fly all kinds of kites! Bring your own kite or make a paper kite on-site and harness the power of Mother Nature to lift your flyer into the sky! Admission and parking are free.
Last but not least, Easter week also sees the re-opening of Island Farm for the 2013 season! The attraction is open from 10 a.m. to 4 p.m. Admission is $6/adult; children ages 5 and younger are free.

This week you have a chance to win a $35 gift certificate to Duck's Cottage Downtown and a $35 gift certificate to Full Moon Cafe & Brewery!
For more information about Duck's Cottage Downtown, check out their website.
For more information about Full Moon Cafe & Brewery, check out their website.
Last Week's Winner
Congratulations to Millie Melton!!!

You won a two-night stay at Colonial Inn and a $35 gift certificate to Tortugas' Lie!
For more information about Colonial Inn, check out their website.
For more information about Tortugas' Lie, check out their website.