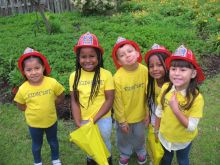 With several events happening around town plus Mother's Day on Sunday, it's going to be a great weekend on the Outer Banks. Here's a look at what's coming up this weekend. 
KidsFest
The weekend kicks off with a great event for the littlest among us: KidsFest. Geared to ages 5 and younger, KidsFest has all the things young children love: fire trucks, EMS vehicles, school busses, bubbles, music, art and crafts, stomp rockets, games – more than 60 exciting activities in all. Held from 9:30 a.m. to 12:30 on Friday, May 6 at Roanoke Island Festival Park in Manteo, the event is free. Bring a picnic or snacks to enjoy on the lawn. Find more information here.
Artrageous Kids Art Festival
Another perennially popular event for kids of all ages, Dare County Arts Council's Artrageous Kids Art Festival is happening Saturday, May 7 at Dowdy Park in Nags Head. This event has been going on for 33 years, and it's a true community collaboration. Kids can participate in numerous art activities, plus there's live music and dance, an artisan market, food vendors and more. The event runs from 10 a.m. to 3 p.m., and most activities are free. You'll need money for food and buying art. Find more information here.
First Friday
In Downtown Manteo, the first Friday of the month always brings a celebration. There's music in the local restaurants, pubs and wine bars, author signings at the bookstore, art exhibits with a reception at Dare County Arts Council, food to eat, drinks to drink, shops to stop into and so much more. New in 2022 is the Manteo Art Walk. This month Downtown Books is hosting an author signing with Alicia Bessette and Hannah West. The main events of First Friday typically run from 6 to 8 p.m., but you can come early or stay later and find plenty to do.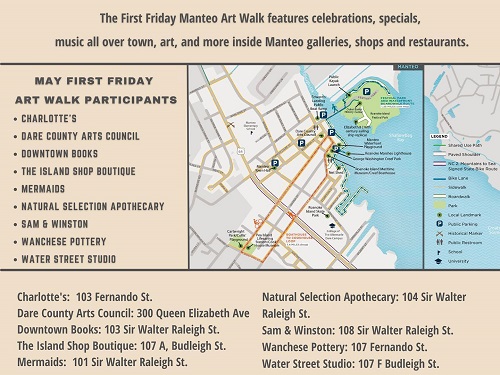 The new Manteo Art Walk features stops at several local businesses.
The Hunchback of Notre Dame
Theatre of Dare is partnering with Manteo High School Stage Left Productions for a presentation of The Hunchback of Notre Dame at Manteo High School auditorium. The show opens this Friday. The Friday and Saturday shows (May 6, 7, 13 and 14) start at 7 p.m., and the Sunday show (May 15) is at 2 p.m. Cost is $6 for students and $7 for adults. See more information here.
ESA Regionals
If you looking to get to the beach this weekend, you might as well go to Jennette's Pier and enjoy some surfing entertainment. Friday through Sunday, surfers will be competing on the waves by the pier, and it's always a fun scene, even if you're only spectating. If you like to fish, it can be fun to fish and watch the surfing contest from the pier. Here's where to find Jennette's Pier. 
OBX Rod and Custom Festival
I have to admit I had no idea what this festival was when I saw the name. But if you're a car and truck person, you know. The OBX Rod and Custom Festival is an event for car lovers with a car show, cruise-ins all around town, food, lots of live music and lots of fun. The main event for spectators is the car show with live music and entertainment at Soundside Event site in Nags Head on Friday, May 6 and Saturday, May 7. There's a lot more to it, so if you're a car person, check out the website.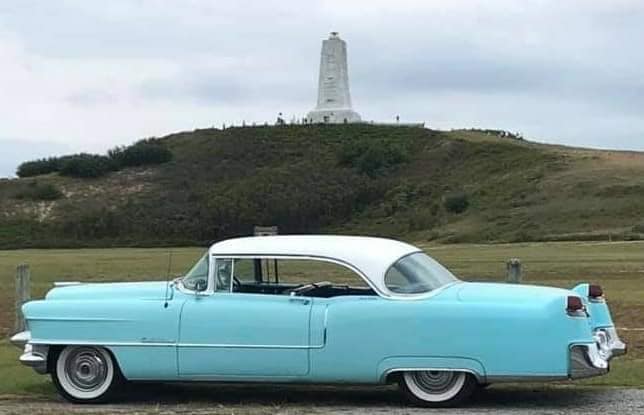 Thanks to the OBX Rod and Custom Festival, you'll see a lot of classic cars around town this weekend.
Mother's Day Dining
If you're celebrating with your mom this Sunday, she'd probably love a tasty brunch made by someone else. Red Sky Cafe in Duck is hosting a Mother's Day Brunch Buffet on Sunday, May 8 from 10:30 a.m. until 3 p.m. The menu includes She Crab Soup, Smoked Salmon, Tuna Tataki, Chef Wes' Sweet and Smoky N.C. Shrimp and Grits, Kitty Hawk Soft Shell Crabs and so much more, including a dessert bar. Reservations are required. Call or text (252) 455-1791. Find out more about Red Sky Cafe here. 
Mahi Mahi's Island Grill in Nags Head is celebrating moms all weekend. On Saturday and Sunday evenings from 4 to 9 p.m., they're offering a special dinner menu and drink specials. The menu is a $44 or $48 prix fixe, three-course meal with hors d'oeuvres, a first course, a second course and dessert. Fresh, local seafood is the star of the menu, but there's also a duck dinner option. The menu looks incredible so check it out here.
This is by no means all there is to do on the Outer Banks this weekend. If you love live music, be sure to check out our Nightlife listings (EarthKry is at Outer Banks Brewing Station Saturday night!). And look through our Daytime listings for all the great upcoming events, this weekend and beyond.