2023's Halloween weekend is shaping up to be one to remember. The weather on the Outer Banks this week is perfect – with temperatures in the low 70s and super-light winds, it feels like that last little blast of locals' summer we all love. Plus, there are so many events happening this weekend through Halloween on Tuesday, and I'm going to tell you about a lot of them below. You can see all the rest of the upcoming daytime and nightime events here. You can't do it all, so don't even try, but I hope you get out there and live it up all weekend.
Photo: The Island Farm Pumpkin Patch is fun for all ages.
Wicked Woods
Friday, October 27 through Sunday, October 29
There's no better way to kick this blog off than with a haunted trail adventure out in the sticks in East Lake. These are the last three nights of the show, so don't miss it. Hours are 7:30 to 11 p.m. Cost is $20 at the door. The address is 18766 U.S. Highway 64, East Lake. Just drive west on Highway 64 and listen for the chainsaws and screams. Find info here.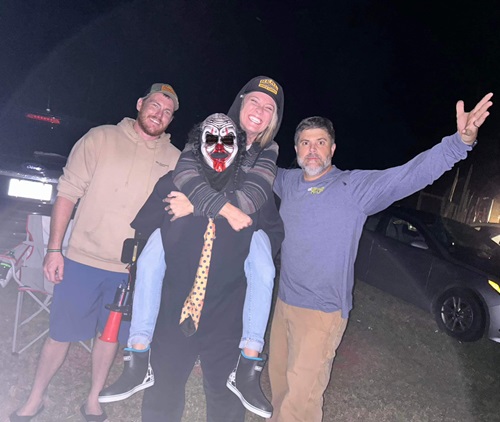 Photo: Outer Banks This Week's podcast crew hit up Wicked Woods in East Lake.
Blackbeard's Pirate Jamboree
Friday, October 27 and Saturday, October 28
As the stomping grounds and final resting place of Blackbeard the Pirate, Ocracoke Island is steeped in pirate history. The island goes pirate crazy on the last weekend in October with a jamboree, costume contests, a bazaar, cannon blasts, comedy shows, re-enactments, live music, rum tastings and so much more. Find more info here.
Not-So-Scary Halloween Sensory Night
Friday, October 27
North Carolina Aquarium, in partnership with Surfing for Autism and Trillium Health Resources, hosts a Not-So-Scary Halloweeen night with sensory-friendly activities, learning stations, indoor and outdoor exhibits and a calming space. Wear a costume. This is held from 5:30 to 7:30 p.m. It's free but registration is required here.
Theatre of Dare – The Bad Seed
Friday, October 27 to Sunday November 5
Theatre of Dare's fall production is an appropriately suspenseful drama. It's playing at the Theatre of Dare's home stage at 3848 N. Croatan Highway in Kitty Hawk on Friday and Saturday nights at 7:30 p.m. and on Sundays at 2 p.m. Tickets cost $15 for adults and $10 for students. Click here for tickets.
Island Farm Pumpkin Patch
Saturday, October 28
Island Farm, a living history farmstead in Manteo, has been celebrating fall every Saturday in October, and their final event will be this weekend. Bring the kids to the farm on Saturday for fall games and activities like candle making, mini sword crafting, sipping apple cider and popping corn over an open fire. You can also pick out a pumpkin to take home. Hours are 9 a.m. to 3 p.m. and admission costs $10 (free for ages 0 to 3). Island Farm is on U.S. Highway 64 in Manteo. Find info here.
Dare to Scare 5K and Sweet Treat Fun Run
Saturday, October 28
This fundraising race is a fun one, drawing a lot of local families and groups of friends. The 5K starts at Coastal Studies Institute in Wanchese at 8 a.m. The Fun Run begins at the Virginia S. Tillett Community Center in Manteo at 9 a.m. The race benefits the Virginia Tillett Community Center's annual Toy Drive. Sign up here.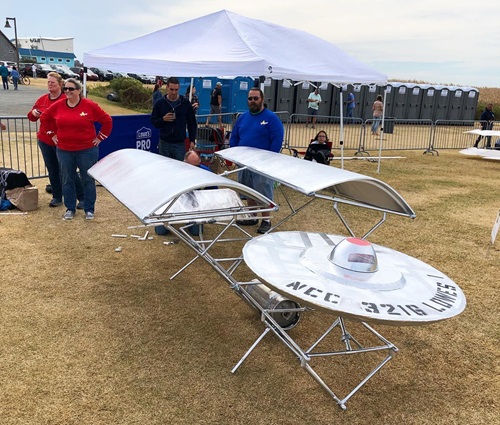 Photo: Handmade flying machines are the star of the show at Brewtag. Come see which ones will fly the farthest.
Brewtag
Saturday, October 28
Brewtag is a celebration of flight and beer. Along with enjoying music, craft beer and food, you'll watch contestants compete to see who can launch and fly an empty 1/6 keg barrel. UniS, Anchor Blazer and Jonny Waters & Co. will provide the tunes. Proceeds benefit the Rogallo Foundation. It's held at Soundside Event Site in Nags Head from 11 a.m. to 6 p.m. For info, click here.
Wooden Boat Show
Saturday, October 28
Roanoke Island Maritime Museum hosts a wooden boat show on the last weekend of October every year. Boats will be on display in Creef Park and in the water around the Roanoke Marshes Lighthouse in Downtown Manteo. Stop by for a look on Saturday from 9 a.m. to 5 pm.
A Night of 1587 Pumpkins
Saturday, October 28
The Elizabethan Gardens is going all out for Halloween with a family-friendly event in which they attempt to light 1,587 jack-o-lanterns to line a walkable pathway. There will also be trick-or-treating, contests, hot chocolate, apple cider and s'mores. They need carved pumpkins to make this happen, so bring a carved jack-o-lantern with you between 5 and 6:30 p.m. or show up at the Gardens on Thursday or Friday from 10 a.m. to 4 p.m. to help carve. Event hours are 5 to 8 p.m. Cost to enter is $12 for adults, $4 to $8 for youth, $5 for a dog and free for ages 2 and younger. Find more information here.
Harborween Night
Saturday, October 28
Wanchese Marina and Landing Grill host a fun night of trick-or-treating around the docks, inflatables, music and food and drink. The free family fun starts at 4 p.m. and goes on until around 7 p.m. Food and adult beverages are available for sale. Find it at 4457 Mill Landing Road in Wanchese.
October Weekends on the Farm
Saturday, October 28 and Sunday, October 29
Up in Currituck County, Morris Farm Market is hosting fun daytime events with live music, food, hayrides, bounce houses and beer.  Hours are 11 a.m. to 5 p.m., and you'll find the fun at 3784 Caratoke Highway in Barco.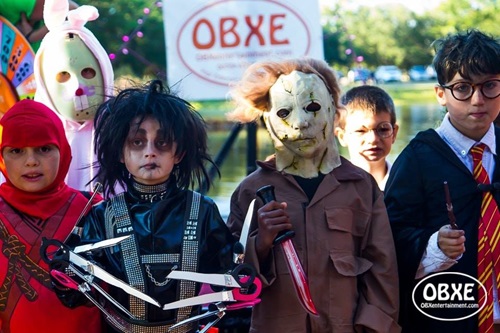 The Outer Banks Halloween Parade of Costumes is as fun to watch as it is to participate in.
10th Annual Outer Banks Halloween Parade of Costumes
Sunday, October 29
Get your best costumes ready because this is the real deal. People go all out for this one. The party starts at 2 p.m. at Aviation Park in Kill Devil Hills. The parade starts at 3 p.m., and there are awards. If you're not in the parade, come to watch. Find more information here.
First Flight Elementary Trick or Treat Night
Sunday, October 29
Right after the Halloween Parade, walk on over to First Flight Elementary School's Trick or Treat Night. The family-friendly happens in the school from 4 to 7 p.m. with games, trick-or-treating, food and more. Entry is by donation, and events cost a small amount of money. The school is at 107 Veterans Drive.
Ships & Sweets
Sunday, October 29
Trick or Treat at Oregon Inlet Fishing Center. Kids can trick or treat along the docks, stopping at the boats for treats and games. Plus there's food (she-crab soup from Sea Chef Catering!), a raffle drawing (bring a nonperishable food item to be entered into the raffle) and special guests. The fun starts at 5:30 p.m. at 8770 Oregon Inlet Road, south of Nags Head.
Barks & Brews
Halloween Dog Costume Contest
Swells'a Brewing is hosting this event to benefit Outer Banks SPCA. Bring your dog in costume or come to see all the dressed-up pooches. This happens from 3 to 6 p.m., and cost $20. Swells'a is at 1802 S. Virginia Dare Trail in Kill Devil Hills.
Exotic Erotic Halloween Ball
On Halloween night, Outer Banks Brewing Station is always the place to be. DJ Styles and DJ BlacKing will spin the tunes, and the costume contest gets outrageous – and there are prizes. Entry is $5 if you're in costume, $10 if you're not. It starts at 9:30 p.m. and goes late. OBBS is at 600 S. Croatan Highway in Kill Devil Hills.