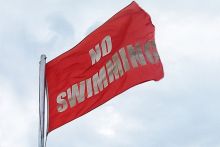 You planned ahead, spent your hard-earned money on a vacation rental, packed up all your stuff and drove hours to the Outer Banks. The kids are in their swimsuits excitedly running out to the beach. BAM! The red flags are flying. No ocean swimming?!
We get it. The disappointment is real. No one likes to see those red No Swimming flags flapping in the wind. The red flags, however, save lives. Ocean rescue personnel fly the flags at beach accesses when conditions are unsafe for swimming, whether due to threat of rip currents, extreme shorebreak or something else. Sometimes it's tempting to disobey the flags and swim anyway, but please don't do that. If you willfully disobey the flags, you are putting a lifeguard or emergency worker's life at risk to save you. And there is no guarantee that someone has to come save you.
Photo: Town of Nags Head Facebook
Here are a few things to know about red flags:
- Different towns have different rules about people who disobey No Swimming rules. In some towns ocean rescue personnel will issue a warning to swimmers, while in other towns swimmers can actually be ticketed and fined. 
- The ocean doesn't have to look menacing to be dangerous for swimming. The ocean rescue personnel don't make the decision to fly No Swimming flags lightly. Trust their judgment.
- No swimming also means no wading. Strong waves and currents could easily sweep you off your feet.
- Yellow flags placed directly on the beach indicate that there is a moderate risk for rip currents in that location. Only experienced swimmers should enter the water, preferably with a flotation device like a bodyboard.
- The exception to the red flag rule for swimmers is surfers. Surfboards need to be at least 5 feet long with at least one fin and a leash. Bodyboards and fins are allowed as long as the sturdy type bodyboard of foam encapsulated by plastic with side rails and stringers; it must have a leash. This exception is intended for serious surfers and bodyboarders, and it's not wise to rent a board for a newbie just so your kid can get in the water.
- It takes time for ocean rescue staff to put up and take down the flags every day, and they can't put them everywhere. Usually the flags go up around 9 or 10 a.m. and come down by 6 p.m. so it's possible you could be swimming in dangerous conditions and not know it. A better way to know about ocean safety conditions is to check the National Weather Service's Beach Forecast webpage or subscribe to ocean safety text messages from OBX Beach Conditions by texting JOIN to 30890. Text STOP to 30890 to stop receiving notifications.
Why am I telling you all this? Well, the Outer Banks has had a long string of red flag days lately, partially due to Hurricane Paulette out in the Atlantic, and it looks like more are coming this weekend. With strong NE winds predicted for the weekend and into next week, those flags will likely be flying so be prepared. 
So, what can you do instead of ocean swimming? Quite a bit, actually, so don't get too discouraged.
Play on the Beach
If you won't be too tempted to get in the ocean, you can still have a good time at the beach. Bring food and drinks and games like bocce and cornhole. Build a sandcastle or make sand sofas and chairs. Plan an obstacle course or have a field day-style competition with egg toss, three-legged sack races, etc. Walk on the beach. All that fresh air, sunshine and barefoot time will have you just as relaxed and happy as if you had been swimming all day.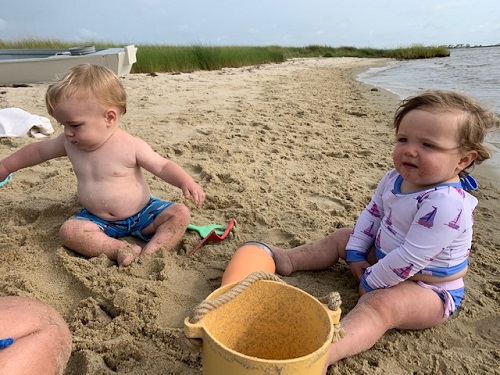 The soundside, where the water is warm and shallow, is perfect for the littles.
Play on the Sound
Soundside beach accesses are harder to find, but they do exist. When the wind is blowing onshore on the ocean side, that means the soundside will be calmer and more enjoyable. The sound waters are shallow and safe for wading and swimming. There is a soundside access at Jockey's Ridge State Park in Nags Head, but it's on the radar big time and is usually very crowded (although a weekday in the off-season would be less so). The Town of Nags Head has a few sound accesses (see a list here), and Roanoke Island has one called the Old Swimming Hole. Cape Hatteras National Seashore has several great soundside accesses. For a full list of soundside accesses on the Outer Banks from Corolla through Hatteras, click here.
Rent a Boat
Depending on the wind and weather, a boat gives you plentiful options for sound swimming or finding a private soundside beach. Explore around in the sound, and you'll find little spoil islands or sandbars where you can anchor the boat and wade ashore to a sandy beach. Never do this on private property, and always make sure you're not entering a closed bird sanctuary. If there are signs on the island, read them. You can rent powerboats, skiffs and pontoon boats as long as you have boat-handling skills. Jet Skis, sailboats, kayaks, canoes and paddleboards are other rental options; see a list of rental outfitters here.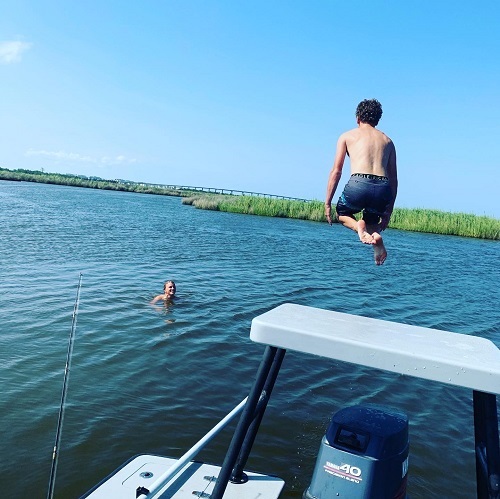 When soundside swimming, always check the water depth before you take a leap.
Take a Boat Tour 
If you aren't confident at boat handling, someone else can take you. Dolphin tours, head boats, fishing charters, shrimping charters, airboat tours, sailing tours and kayak tours are other ways to get on the sounds. You'll find a full list of these types of tours in our Things to Do section, and you can search by activity.
Enjoy Watersports
Other things you can do in the sound include parasailing tours and kiteboarding and windsurfing lessons; see a list of those businesses here.
Take a Hike
There are dozens of places to hike on the Outer Banks, and some of the trails lead to the water. A couple of the trails in Nags Head Woods lead to the sound, where dogs or children can splash and play. The trail at Springer's Point in Ocracoke leads to a soundside swimming hole. Other trails lead to great views of the water.
The red No Swimming flags don't have to ruin your vacation. There's so much to do here besides swimming, so you're going to have fun no matter what. Keep looking around our site for Attractions and all the Daytime and Nightlife events this week. Have fun and stay safe out there!