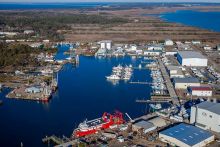 Wanchese, the small village on the southern end of Roanoke Island, is not like the rest of the Outer Banks. It's a quiet community of natives and locals and a hotspot for boatbuilding, commercial fishing and seafood packing, and it doesn't court tourism like the other Outer Banks towns. Life here is all about family and boats and fishing and living on the water. Visitors and even many locals from "up the beach" don't go to Wanchese because they're unfamiliar with the village and are unsure about what's there, so Wanchese has that wonderful feeling of being off the beaten path. But there are a few businesses in Wanchese that welcome visitors, and that's what this blog is here to tell you about.  
Photo: At the heart of Wanchese is Wanchese Harbor, home to the local boatbuilding and seafood industries.
First, you have to get there, and to do that you need to get yourself on Highway 345. After you cross the Washington Baum Bridge from Nags Head, turn left at the big intersection (if you're coming from Manteo, go straight at the intersection; if you're coming across the Virginia Dare Bridge from the mainland, turn right). This is the road that leads you to Wanchese. First you'll pass through the little community of Skyco. Once you see the Village Hardware store and gas station on the left, you're in Wanchese. Pay attention to the speed limit signs because there are officers watching for lead-footed drivers as they come into town.
For such a small place, Wanchese has a lot of winding roads. You might find it relaxing to drive around looking at the houses, yards and horses in pastures; the boatbuilding shops and boats docked in ditches and marinas. You'll find a fascinating juxtaposition of rundown buildings and white-washed churches, dilapidated rusting boats and super-slick sportfishing yachts, historic homes and new architecture. You can't really get lost because the roads will eventually lead you around in a circle, but if this is new territory, you can use your phone's navigation to help you find your way. If you get turned around, put in the address of the hardware store (2991 N.C. Highway 345) to help you get back to the main road.
If you love the idea of getting off the beaten path, here's what you do in Wanchese.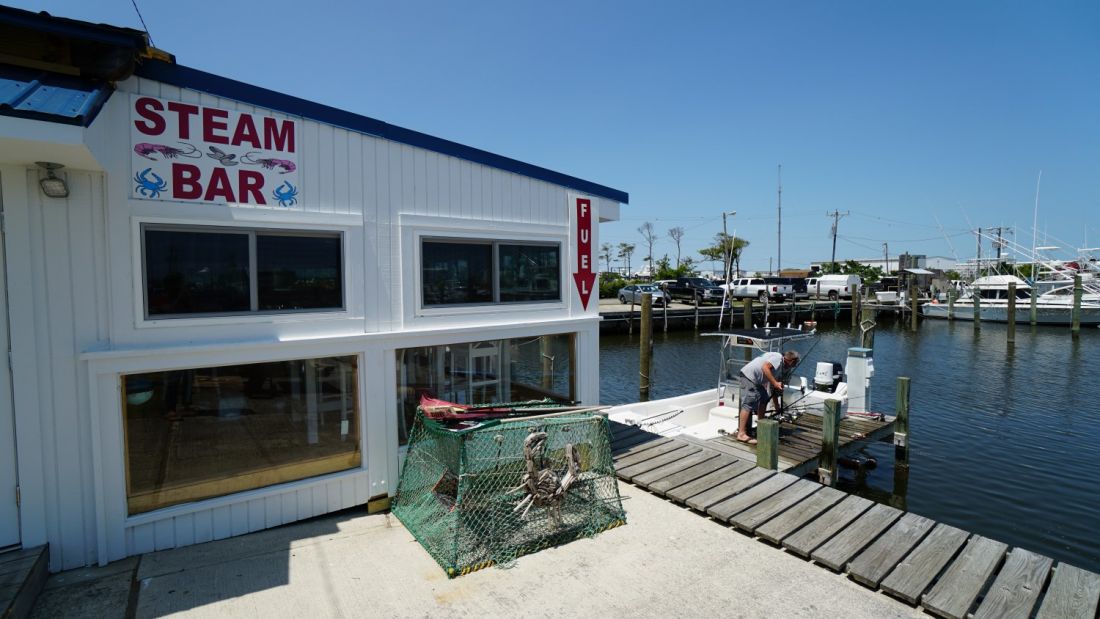 Photo: Landing Grill is right on the harbor at Wanchese Marina, so you can boat up if you'd like.
Eat
Wanchese has three outstanding waterfront restaurants that draw diners from all over the Outer Banks.
Landing Grill & Seafood Steam Bar at Wanchese Marina has a waterfront dining and steam bar with a view of the marina. Breakfast includes all the traditional favorites plus made-to-order sandwiches to go, which are perfect if you're catching a fishing charter. Lunch and dinner offer a large menu of homemade tuna, shrimp and chicken salad, burgers, barbecue, salads, wings, subs, sandwiches, pizzas and more. The steam bar offers shrimp, snow crab legs, oysters and clams. They serve beer and wine. 4457 Mill Landing Road, Wanchese, (252) 473-3247
O'Neal's Sea Harvest is located directly on Wanchese Harbor in the Industrial Park. O'Neal's is unique because it's a fish house – the place where fresh-caught seafood is unloaded at the docks and cleaned to be sold. Seafood comes in the back door at the harbor, and some of it goes straight out front to be sold in their retail seafood shop or cooked to be served in the restaurant (which are in the same space). Serving lunch, O'Neal's cooks up arguably the best fried shrimp, fried fish and fried soft crabs on the Outer Banks. They also cook burgers, grilled chicken sandwiches, tasty sides and daily specials. The soft-crab BLT with fried okra is reason enough to drive to Wanchese. 622 Harbor Road, Wanchese, (252) 473-4535
Great Gut Deli, aka Annie's, at Thicket Lump Marina is a popular restaurant for lunch. Perched on the second story, it offers outdoor and indoor dining with a water view. The sandwiches and wraps are big and filling and made with care, and the daily specials and homemade soups are always a hit. Annie's is famous for its shrimp salad and tuna salad. They serve beer and wine. 219 Thicket Lump Drive, (252) 473-2479
Buy Seafood
If you're looking to buy fresh seafood to cook at home or to stock up your freezer, Wanchese is a great place to get it. Commercial fishing boats come straight into Wanchese Harbor with their catches, so buying seafood here is almost like buying seafood straight off the boat. Both of these businesses are run by longtime and well-trusted fishing families. You'll find local in-shore fish and game fish, shrimp, crabs, clams, oysters, crabs and scallops, depending on the season.
O'Neal's Sea Harvest, 622 Harbor Road, (252) 473-4535
Fresh Catch Seafood, 4331 Mill Landing Road, (252) 475-9888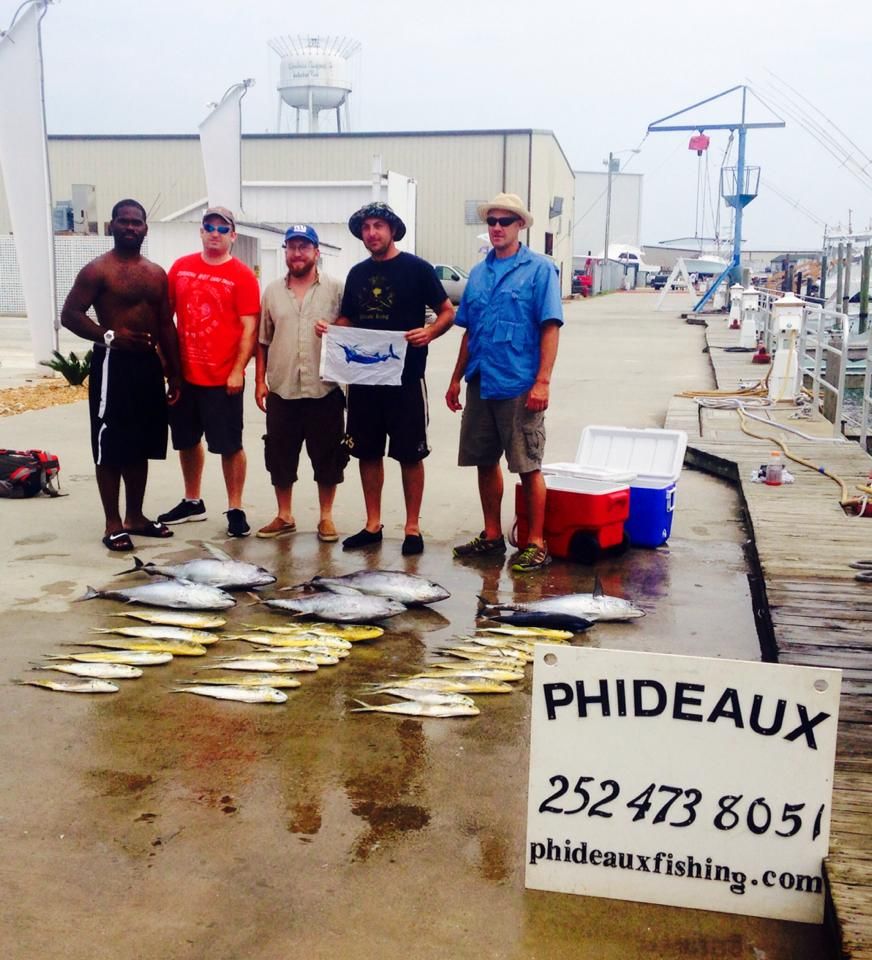 Photo: A fishing charter out of Outer Banks Marina returns to the dock with tuna and dolphin and a marlin flag.
Go Fishing or Boating
If you're looking to get out on the water, two marinas in Wanchese can help you do it.
Outer Banks Marina offers in-shore and off-shore charters, and they offer centralized booking to help you hook up with the right boat. Their boats also offer dolphin-watching trips and crabbing and shrimping charters. They sell fuel and have a ship's store and a tiki bar for after-fishing drinks. 708 Harbor Road, (252) 473-5344
Wanchese Marina offers fishing, crabbing and shrimping charters, dolphin tours and dive charters. They sell fuel and have a ship's store and restaurant (see Landing Grill, above). 4457 Mill Landing Road, (252) 423-3157
Sleep
If you like Wanchese so much you want to stay the night, there are two B&B choices, along with a few short-term rentals on Airbnb or Vrbo.
Island House of Wanchese is a bed and breakfast with three rooms and one suite. They serve a hot breakfast daily, and there's a nice yard for guests to enjoy. 104 Old Wharf Road, Wanchese, (252) 489-2325
Wanchese Inn Bed and Breakfast offers accommodations in an updated historic home c. 1900. They offer four rooms and a hot breakfast. 85 Jovers Lane, Wanchese, (252) 475-1166