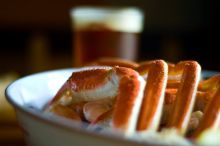 One question I hear a lot on the Outer Banks is, "Where has the best happy hour?" First things first, visitors should know what makes this a different sort of question in North Carolina.
Simply put, happy hours here are weird. The state's ABC rules restrict eateries from allowing alcoholic drink specials during particular times of the business day. It's part of their mission to curb binge drinking and impaired driving.
The concept of happy hours in North Carolina's may be a little different from those in many other states. However, it's not as restrictive as it often sounds at first. Eateries can still offer beverage specials, but they must last all day instead of for a set time frame. Daily deals that rotate throughout the week, such as margarita Mondays, two-for-one Tuesdays or Wine Wednesdays, replace the standard two-hour windows for daily beverage bargains.
Happy hours, in fact, are alive and well when you look around Outer Banks restaurants. That's because many of them are specials that focus more on food than drink. We're looking at shrimp, crab legs or chicken wing specials in the late afternoon/early evening or all day drink deals that restaurants are known for hosting.
In my mind, these are much better deals – I can hold more snacks than drinks anyway, and this leaves my belly and budget very happy. Happy hours on the Outer Banks aren't the time to be snooty or frilly – they're a time to get down and dirty with all-you-can-eat shrimp, chicken wings specials and crazy quantities of shrimp. All around the Outer Banks, you'll find a surplus of food-forward happy hour deals. Here are a few to tide you over the next time you're in need of a midday snack.
North Beaches
Long-time evening hang out spot, Sundogs Raw Bar and Grill, takes patrons from apps to dinner and then well into the late-night hours. Start with weekday Happy Hour Shrimp and Crab Legs, where you enjoy 33% off the two steamers between 3 and 5 p.m. Fill up immediately, stay through dinner or hang around  well into the evening, thanks to the nightly late-night menu and drink special available until 1:45 a.m.
Central Beaches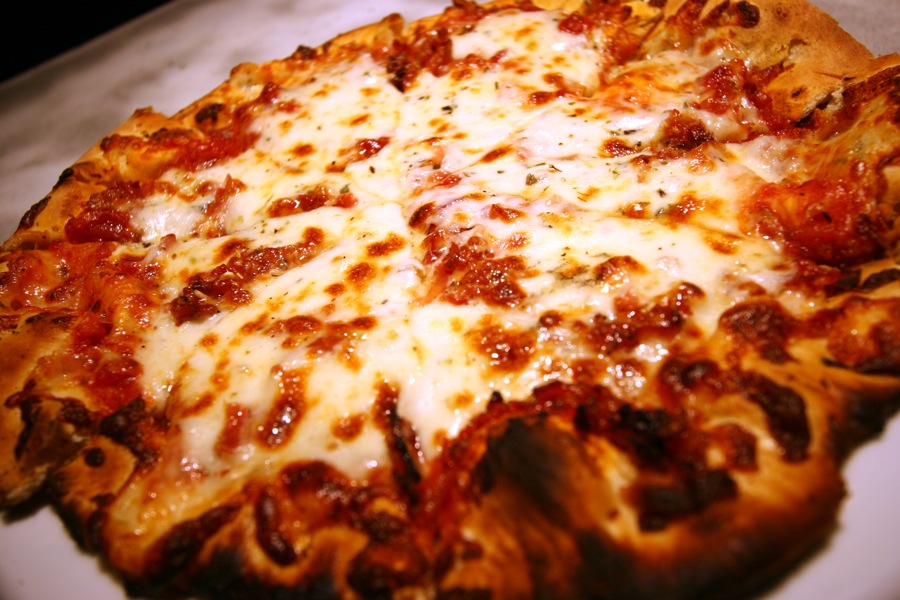 Get $2-off your choice of pizza at Black Pelican's happy hour.
If you're hungering to create a happy hour crawl where you can snack your way between venues with ease, you'll have no trouble finding happiness in the Kitty Hawk, Kill Devil Hills and Nags Head area. Snack specials and popular daily beverage offers flow through these towns. In Kitty Hawk Black Pelican's long-established happy hour for buffalo shrimp and reduced-price gourmet, wood-fired oven pizzas attract a sizable and loyal following daily from 3 to 5 p.m. It's an awesome choice for a lunch or early dinner if you're trying to beat the crowds.
Just across the street, Hurricane Mo's Beachside Bar and Grill draws a regular crowd with its happy hour for 35-cent wings, 15-cent shrimp and $1 tacos available everyday between 3 and 6 p.m. Pair that with the amazing ocean views offered on the upstairs deck, and you'll be feeling quite happy indeed.
If you're wanting to shake up your snacks from the usual seafood suspects, head to happy hours in Kill Devil Hills. Chilli Peppers Grill and Pupuseria adds a spicy touch of Central American flare. Their daily happy hour from 2 to 5 p.m. invites diners to come hungry and indulge in 20-cent shrimp, 50-cent wings or for bigger appetites $5 appetizers and $5-off deals on shrimp or crab legs by the pound.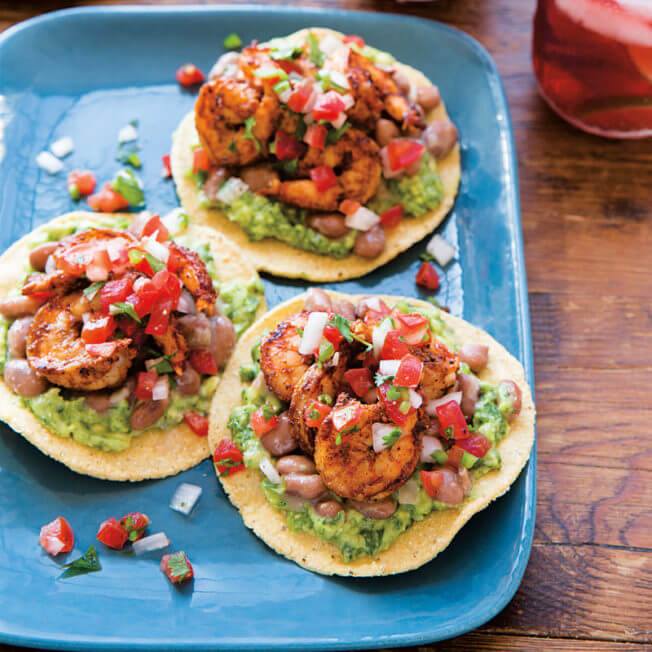 App specials at Chilli Peppers happy hour
There's also lots of variety found in happy hour offers from Sandbars Raw Bar & Grill. Whether you want raw bar or kitchen-prepared specials, fill up with half-price raw bar items, 60-cent oysters, $2 sliders and much more available 3 to 6 p.m. every day of the week. Depending on when you go, you also might dip into Margarita Monday or Wine Wednesday.
Farther south, around milepost 18.5, you find a beloved mainstay in the Outer Banks' happy hours scene, Fish Heads Bar and Grill, in Nags Head. The eatery is known for its unparalleled ocean views, thanks to the way it opens onto the 600-foot-long Outer Banks Fishing Pier, which stretches over the ocean. People of all ages come here to munch away on 15-cent shrimp during their famous Shrimp Happy Hour from 4 to 6 p.m., unwind with a cold beverage, listen to the live musicians or soak in the amazing views.
Not quite happy hour but definitely a go-to when those late-afternoon snacks start wearing off, New York Pizza Pub's popular late-night service for pizza and garlic knots can quiet growling stomachs as late as 2 a.m. in Nags Head. It's worth noting too that their $2 pizza slices are available any time of day.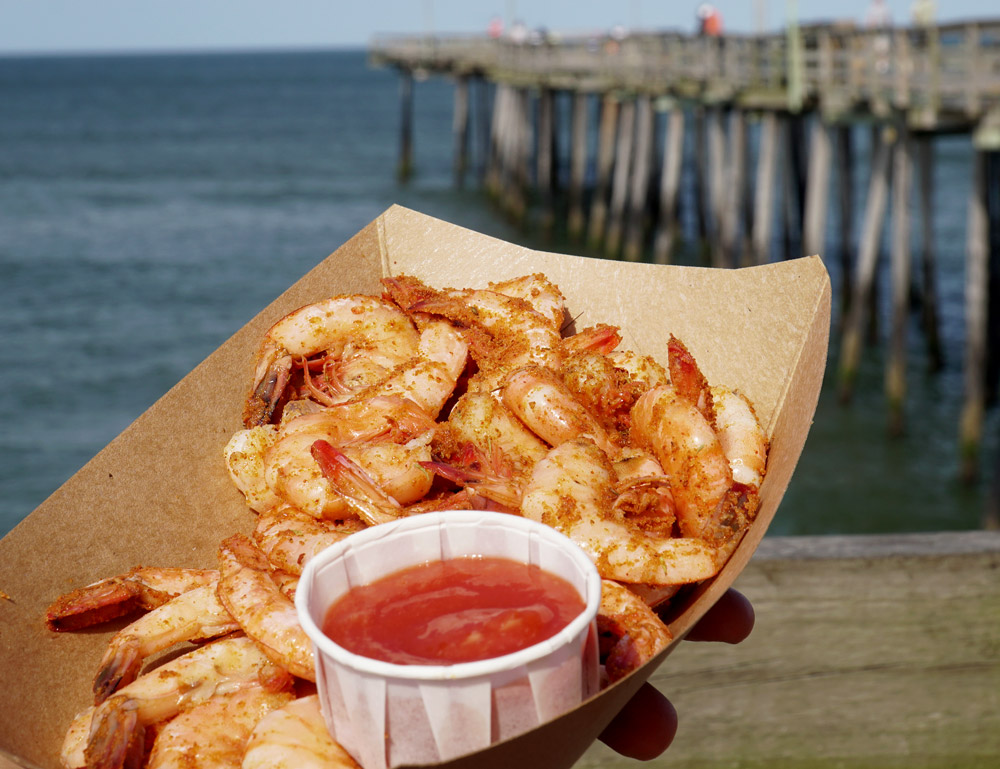 Snack with a view at Fish Heads happy hour
Island Style
A nice part of happy hour hopping on Ocracoke is that you actually can walk between locations. Welcome the late afternoon in the heart of the village with Dajio Restaurant's Shrimp Hour. Every day from 3 to 5 p.m., peel-and-eat shrimp are available by the half pound for $7.25.
---
What are your favorite spots for happy hour on the Outer Banks? Inquiring minds hunger for knowledge! And with our Outer Banks Dining Promotions page, you can learn more about amazing food and beverage deals Outer Banks Restaurants offer every day of the week.