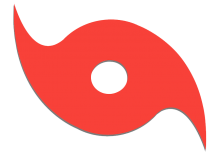 ** UPDATE: Isaias has moved past the Outer Banks with minimal damage. Hatteras Island is opening for unrestricted access beginning at 2 p.m. today (August 4). 
The Outer Banks is under a Tropical Storm Warning due to the impending arrival of Tropical Storm Isaias. The storm is expected to make landfall somewhere around the S.C./N.C. border as a possible Category 1 Hurricane Monday night and move up through eastern North Carolina, creating tropical storm force winds in eastern North Carolina starting in the early morning hours of Tuesday. Rainfall is predicted at 1" to 3" and tornadoes may be possible with this storm. Storm surge in low-lying areas of the rives and sounds could be up to 2 to 4 feet in some areas, including Hatteras Island and the northern Outer Banks. There could be ocean overwash on N.C. Highway 12 on Hatteras and Ocracoke islands near high tide. 
All in all, these predictions aren't great, but they are better than what we were hearing last week, which leaves people wondering why Hatteras and Ocracoke islands were evacuated over the weekend. Many people are undoubtedly disappointed that their vacations were cut short or canceled (and smacking their foreheads for not buying travel insurance), but Dare and Hyde counties have their reasons for calling evacuations early. Ferries to Ocracoke can't run in bad weather. With the National Weather Service predicting up to 4 feet of storm surge and the possibility of ocean overwash on Highway 12, the only highway in and out of these islands, travel to and from the island can quickly become impassable due to sand and water. In that case, emergency vehicles can't get to anyone who is in danger or needs help. It all comes down to safety and the amount of time it takes to get everyone off of these islands. There are no evacuation orders in place for the northern beaches of Dare County or the Currituck County beaches.
"Our decision makers are provided the best information possible on what each and every storm may bring," says Drew Pearson, director of Dare County Emergency Management. "We rely on the National Weather Service for the impacts we should expect, and decisions are made based on those impacts. Those decisions are critical on Hatteras Island, where we only have one road on and off."
Everyone should plan for a wet and windy Tuesday. People still on Hatteras and Ocracoke islands should prepare for ocean overwash on Highway 12, and people on the northern Outer Banks should prepare for possible storm surge flooding. Soundside residents should move their cars to higher ground in advance of the storm, just in case. Remember, never drive through floodwaters.
Ocean conditions will be dangerous for swimmers over the next several days. Everyone should stay out of the water at all Outer Banks beaches from Corolla to Ocracoke. Beach forecasts and warnings are posted daily here. Sign up for emergency alerts through voice, email and text here.
All Cape Hatteras National Seashore facilities and Wright Brothers National Memorial are closed until further notice.