It's no secret that the Outer Banks's culture is present everywhere. You find it in attractions, activities, events, businesses and even just conversations with the people. Around this time of year you can see how our culture even influences the Christmas season. From seasonal oyster roasts to communities' Christmas parades to historical sites' featuring themed activities, our local culture is embedded within the entire holiday season. This week on the Outer Banks, you'll find activities that celebrate the area's culture and history but with a Christmas kick.
Wings Over Water Wildlife Festival Encore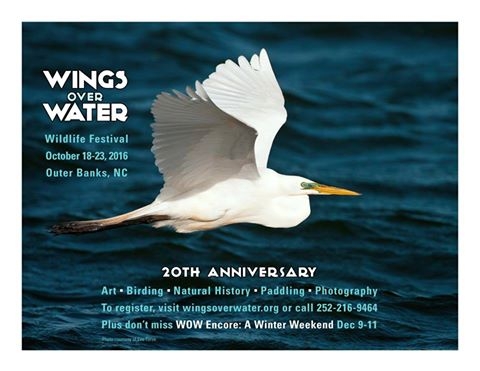 Remember the Wings Over Water Wildlife Festival back in October? Unfortunately some birds weren't around then, but fortunately the recent colder weather has attracted these species to the shores of the Outer Banks. The festival is back so that you can finally catch a glimpse of them. This weekend, bundle up with other birders and photographers and go out in search of Northern Pintails, Warblers and maybe even a Western Kingbird. (And, really ... bundle up! The highs are in the 40s!) Activities in the festival include guided birding expeditions through the Alligator River National Wildlife Refuge, Mattamuskeet National Wildlife Refuge, Pea Island National Wildlife Refuge and more. Prices for these activities range between $15-30. The Wings Over Water Wildlife Festival Encore is from Friday through Sunday, and you can check out the event's schedule here.
St. Nicholas Arrives at Island Farm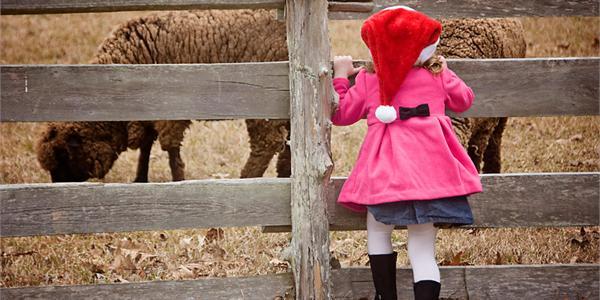 Get a taste of local history and Christmas cheer as Island Farm welcomes Santa Claus for the season. The jolly old elf is no stranger to Island Farm, and he arrives in the farm's custom manner, an ox-drawn wagon. After arriving Santa warms up next to the roaring fire in the farmhouse, and children have the opportunity to join him and share their Christmas wishes. They'll even get their pictures taken with Santa, which can be downloaded for free. After or before you visit Saint Nick, check out the farm's trails with an ox-drawn wagon ride. And if you get hungry, enjoy a 19th-century Christmas snack: hot apple cider and ginger cookies. Santa arrives at 1 p.m., and the activities last until 4 p.m. Admission is $8, and children 5 and younger are free.
Candlelight Christmas Tour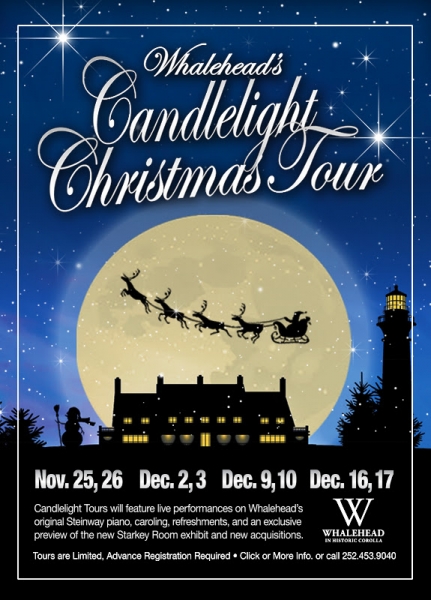 Take a step into Christmas Past with Whalehead's Candlelight Christmas Tour. Wander through the halls of Corolla's historic estate, marveling at the period Christmas décor as your guide shares information about the house, family and prior Christmases. Join the spreading of Christmas cheer through song — tunes from Whalehead's original Steinway piano and caroling will take transport you back in time to the Outer Bankers who celebrated in a similar style. The Candlelight Christmas Tour also involves an exclusive preview of the new Starkey Room exhibit, which makes for an enticing conversation topic at Christmas dinner. You won't want to miss this festivity rich with Christmas culture and history. The Candlelight Christmas Tour is on Friday and Saturday night from 6 to 8 p.m., and admission is $20 per person. Preregistration is required, and spots are limited – call (252) 453-9040 to reserve your tickets.
Hatteras Village Christmas Parade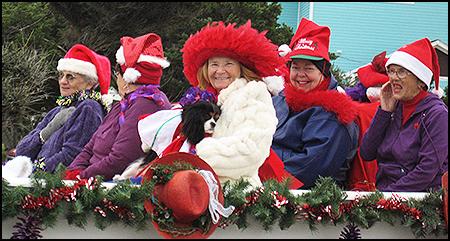 Sure, you know Hatteras-style clam chowder, but have you ever sampled Hatteras-style Christmas? Whether you live in Hatteras Village or drive through the island maybe once a year, you won't want to miss your chance to savor this community's Christmas spirit at the annual Christmas Parade. The parade marches right through Hatteras Village, complete with floats (and boats) filled with participants. Spectators come out to wave at their friends and spread cheer. It's the kind of small-town Christmas event that belongs in a heartwarming, Hallmark Channel movie, but instead of happening in a snowy, New England town, it's right here in this sandy, Outer Banks village. As the parade concludes and twilight sets in, Santa Claus arrives in a town fire truck, waving and sending Merry Christmas wishes, as they say, to kids from 1 to 92. The Christmas Parade starts at 2 p.m. on Saturday and is free to attend.
Outer Banks Chorus presents a Carolina Christmas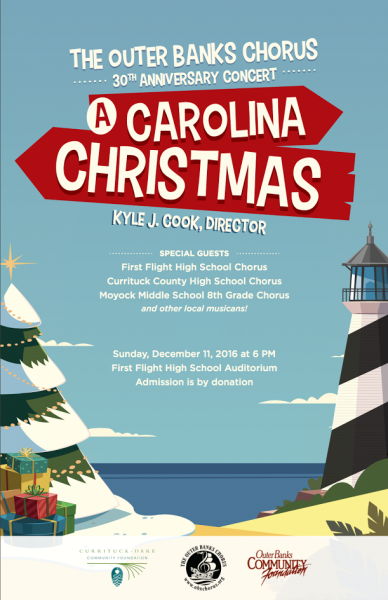 It's time to mark the Outer Banks Chorus' 30th Anniversary with a concert, and what better way than with a Carolina Christmas concert? The Outer Banks Chorus is directed by Kyle Cook and features other local musicians, including special appearances by the First Flight High School Chorus, Currituck County High School Chorus and Moyock Middle School 8th Grade Chorus. This event is at 6 p.m. on Sunday and will be held in the First Flight High School Auditorium. In lieu of an admission price, the chorus requests that attendees bring a donation. 
Ladies' Night at the Elizabethan Gardens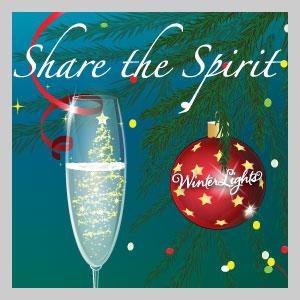 Holiday preparations can be hectic, so ladies, make sure to take some time out for just you. Try Elizabethan Gardens Ladies' Night, a special Christmas shopping event geared toward pampering you. With the help of one of the sales associates, you can compare your Christmas wish list with the store's goodies until you find that must-have item. As you browse, enjoy some champagne and hors d'oeuvres, designed to get you into a state of complete relaxation. This event is on Monday night from 5 to 7 p.m.
---
Now that you've experienced Outer Banks-only activities with a Christmas twist, check out the non-seasonal happenings as well. Museum exhibits, art classes and so much more can be found in our Daytime Events listing. And if you're up for local live musicians or want to test your knowledge at trivia nights, the Nightlife listing will guide you there.