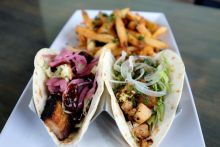 "Who's open?" When it comes restaurants, we all ask this question in the winter months on the Outer Banks. Maybe it's a throwback to the old days, when literally every restaurant closed (even McDonald's), and the only place to get a meal was Seamark grocery store. But times have changed. These days there are hundreds of restaurants on the Outer Banks, and a lot of them do close in the winter. But so many stay open that maybe our question should really be "Who isn't open?"
If you're looking for breakfast, lunch or dinner, take-out, delivery or dine-in, there are several restaurants open near you. Thanks to Outer Banks This Week Account Executive Celeste Osorio, we now have a list of what's open right now. Keep in mind that things change quickly. A restaurant that's not on this list could open by the weekend, and a restaurant that's on the list could decide to close for a break for a week or so. Always verify information before you head out the door.
This really is the best time of year to dine out or get take-out since there's way less competition from other diners. Now's your chance to get outside of your comfort zone and try a new place in a different town. Eat breakfast or brunch out this weekend. Drive to Hatteras or Ocracoke for lunch. Eat dinner out every night this week, trying seven of the local restaurants you've never been to. Be creative and enjoy! For more information about local restaurants, see our
Restaurants
page.
Corolla
Agave Roja
The Chicken Coop
Mexikind Taqueria
Pizzazz Pizza
Uncle Ike's Sandbar & Grill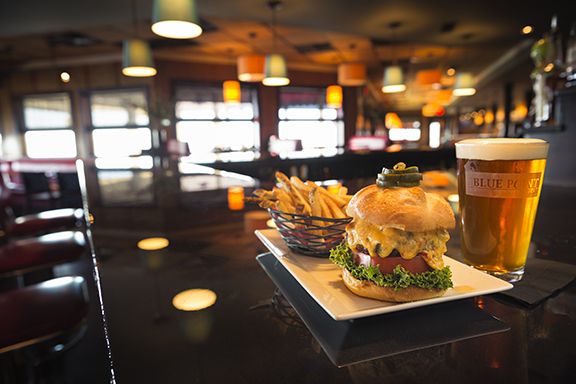 Upscale burger and fries at The Blue Point in Duck.
Duck
Aqua Restaurant
The Blue Point
NC Coast Grill and Bar
Pizzazz Pizza
Red Sky Cafe
Treehouse Coffee Co.
Village Table and Tavern
Kitty Hawk/Southern Shores
Arts Place
Bad Bean Baja Grill
Barefoot Bernie's Tropical Bar and Grill
Black Pelican
Capt'n Frank's
Cosmo's Pizza
Henry's Restaurant
High Cotton BBQ
Hurricane Mo's
I Got Your Crabs
Jersey Mike's
La Fogata Mexican Restaurant
Ocean Boulevard
Outer Bean Cafe
Pizza Stop
Pok's Art
Sandtrap Tavern
Shipwrecks Taphouse and Grill
Taco Loco
TRiO Restaurant and Market
Vinny's Pizza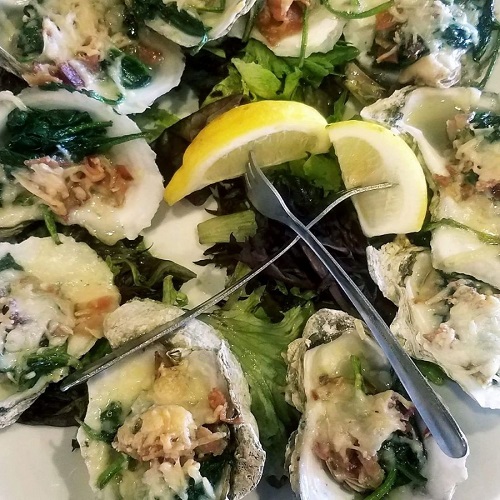 Oysters at Sandbars Raw Bar & Grill in Kill Devil Hills
Kill Devil Hills
Ashley's Espresso Parlour
Beachside Bistro
Bob's Grill
Bonzer Shack
Captain George's Seafood Resetaurant
Chill Peppers Coastal Grill
Colington Pizza
Country Deli
Dare Devil's Pizza
Food Dudes
Front Porth Cafe
Goombays
Jack Brown's Beer & Burger Joint
JK's Restaurant
Khan's Mongolian Grill
Kill Devil Grill
Ladles Soups
Max's Italian Restaurant & Pizzeria
New York Bagels
Outer Banks Brewing Station
Plaza Azteca
Saltbox Cafe
Sandbars Raw Bar & Grill
Slice Pizzeria
Thai Room
Two Roads Tavern
Nags Head
Blue Moon Beach Grill
The Cookshak Fried Chicken
Dirty Dick's Crab House
Dunes Restaurant
Freshfit Cafe
Front Porch Cafe
Grits Grill
It's All Gravy Italian
Jersey Mike's
La Fogata Mexican Restaurnt
Madison's Pizza
Morning View Coffee
Mulligan's Raw Bar & Grill
Pizzazz Pizza
Single Fin Sushi and Thai
South Beach Grill
Taiko Japanese Restaurant
Tortuga's Lie Raw Bar and Grill
Viva Mexican Grill
Waveriders
Woo Casa Kitchen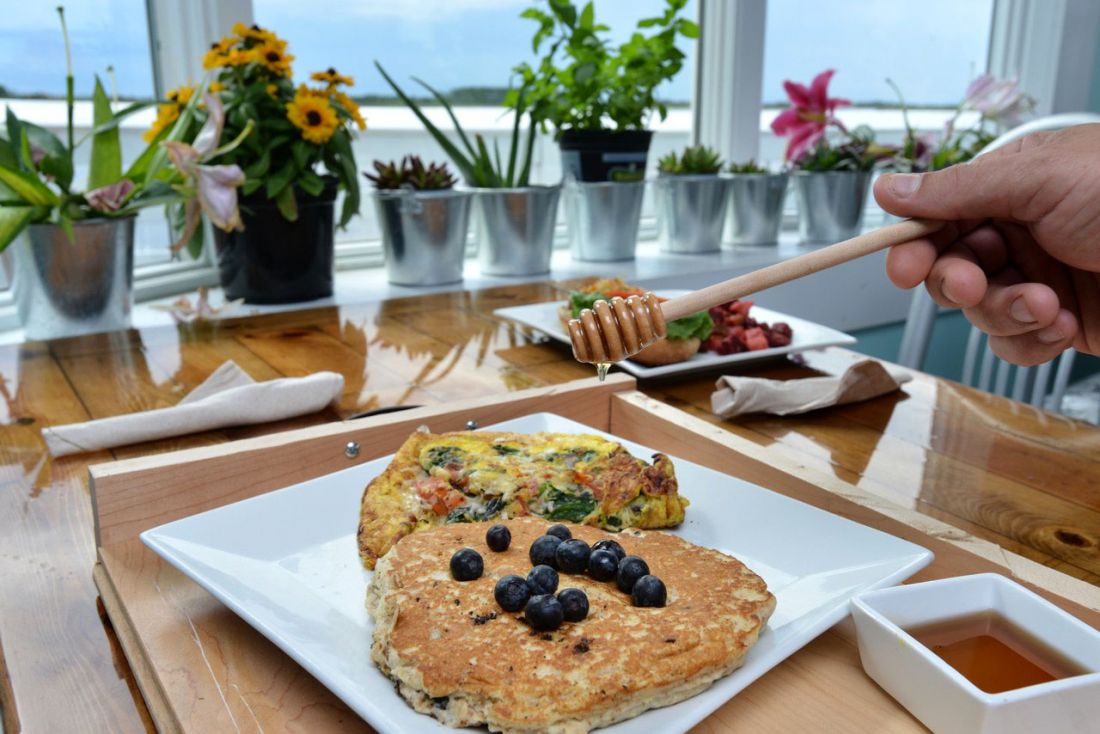 Photo: Breakfast at Freshfit Cafe in Nags Head.
Roanoke Island
Blue Water Grill
Charis Coffee
Darrell's Restaurant
Garden Deli and Pizzeria
Front Porch Cafe
Hungry Pelican
Landing Grill at Wanchese Marina
O'Neal's Sea Harvest
Ortega'z Southwestern Grill
Poor Richards Sandwich Shop
Shaddai Peruvian Restaurant
Stripers Bar & Grille
TL's Family Restaurant
Wabi Sabi Sushi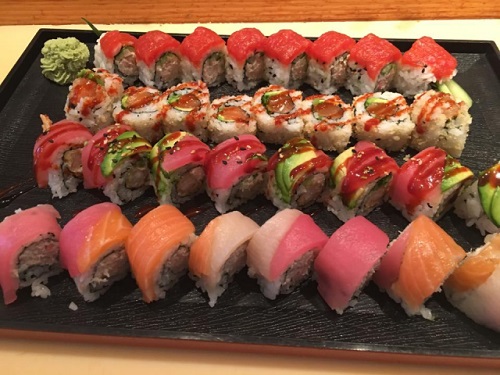 Sushi at Diamond Shoals Restaurant in Buxton.
Hatteras Island
Angelo's Pizza
Boardwok South
Bro's Sandwich Shop
Burger Burger
Café Pamlico
Cockeyed Clam
Froggy Dog Restaurant
Gidget's Pizza
Goodwinds Restaurant
Island Bakery
Island Convenience & Deli
Kat's Deli
Lighthouse Sports Bar
Muffins and Scones
Oceana's Bistro
Subway
Uglie Mugs
Waves Deli
Ocracoke Island
Helio's Hideaway
Jason's Restaurant
Taqueria 504Suazo's
Zillie's