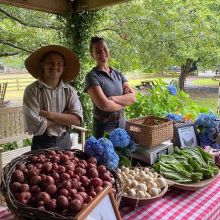 Who doesn't love sweet corn, tomatoes, okra, eggplant, cucumbers, watermelon, cantaloupes, blueberries, peaches and all the other bountiful harvests of summer? It's the best time of year to eat fruits and vegetables, and guess what? All of these garden goodies are grown locally. From small gardens on the Outer Banks islands to large farms on the surrounding mainland, a great variety of produce is grown in this region of North Carolina.
If you're cooking at home (or at your home away from home) and looking for fresh, local produce, there are many places to get it on the Outer Banks. Some of the local grocery stores have small sections with local produce, but I like sourcing produce at the smaller markets and produce stands. Here are a few of my favorites.
Photo: Selling summer veggies at Island Farm in Manteo.
Farmers Markets
Avon Farmers Market
Tuesdays, 9 a.m. to 1 p.m.
Avon Pier/Beach Klub, 41001 N.C. Highway 12, Avon
Avon Famers Market features about 55 vendors selling locally grown produce, all-natural farm-raised meats and local crafts including jewelry, fiber art, ceramics, paintings, metalwork and more. A playground for the kids means you'll be able shop a little longer. After your shopping, take a walk or fish on Avon Pier. It's centrally located on Hatteras Island, so it's convenient to folks coming from the northern or southern villages.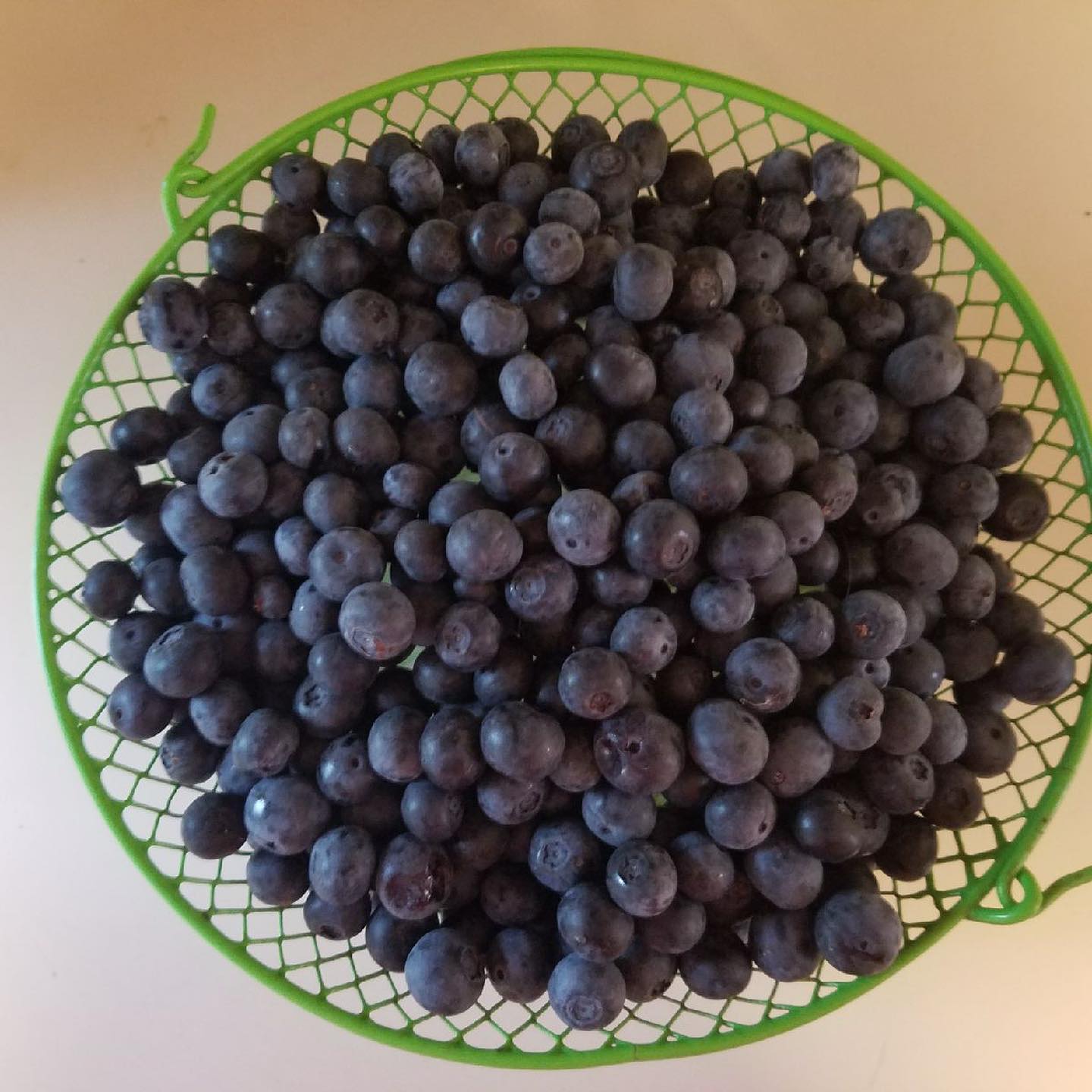 Locally grown blueberries from Carawan Farms in Hyde County
Secotan Wednesday Market at Island Farm
Wednesdays, 9 a.m. to noon
Island Farm, 1140 U.S. Highway 64, Manteo
Secotan Market in Wanchese (held on Saturdays, see below) holds a smaller mid-week market at Island Farm on Roanoke Island. It's a producer-only market just like its Saturday market, though this one is a little smaller. Each week a few select vendors sell their wares at Island Farm including produce, all-natural meats, baked goods or artwork. You'll find produce that was grown on Island Farm as well. If you haven't visited Island Farm before, be sure to stick around to tour this absolutely charming historic site.
Dowdy Park Farmers Market
Thursdays, 9 a.m. to 1 p.m.
Dowdy Park, 3005 S. Croatan Highway, Nags Head
This is the only farmers/arts market in the central beach communities, the most convenient to anyone staying in Nags Head, Kill Devil Hills, Kitty Hawk or Southern Shores. You could spend all morning here shopping for locally grown produce, all-natural meats, baked goods, kombucha and ferments, pickles and more, along with arts and crafts from dozens of vendors. There are about 50 vendors here each week. All the while, the kids can play in the park. Dowdy Park has playground equipment, an exercise trail, sports courts and a big open field for playing in the grass.
Downtown Market on the Manteo Waterfront
Saturdays, 8 a.m. to noon
George Washington Creef Park, Fernando Street, Manteo
This market is in a beautiful setting on the Manteo waterfront, where breezes blowing off the sound and a big shade tree cool things off a bit. Vendors sell produce, plants, flowers, art, crafts, baked goods and more. There's a playground right next to the market area. All around the market are the restaurants and shops of Downtown Manteo, so plan to do a little exploring after you shop at the market.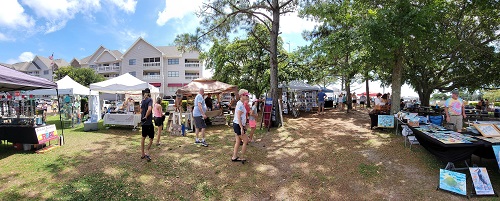 Downtown Market in Manteo
Secotan Market
Saturdays, 8 a.m. to noon
2868 N.C. Highway 345, Wanchese
This is a small, covered market, but its vendors pack a huge punch of locally grown goodness. You'll find locally and regionally grown produce, all-natural meats and eggs, bread and baked goods, kombucha and ferments, honey, salsa, artists, bath and body products, fiber art and so much more. The ride down to Wanchese takes about 15 minutes from Nags Head and is a beautiful drive with not too much traffic. You might as well tool around Wanchese after, maybe scope out the seafood markets or grab lunch in one of the local restaurants.
Produce Stands and Markets
Seaside Farm Market
787 Sunset Boulevard, Corolla
Seaside Farm Market is a great big market in Corolla selling locally grown fruit and veggies, local seafood, baked goods and more.
Tomato Shack
Daily 8 a.m. to 7 p.m.
1195 Duck Road, Duck
The Tomato Shack is well-known in Duck. In the heart of the village, it's easy to walk or bike over to pick up your favorite fruits and veggies for dinner. The staff is friendly and welcoming.
OBX Greengrocers
9:30 a.m. to 7:30 p.m. daily (closes 3 p.m. Saturday)
3701 N. Croatan Highway, Kitty Hawk
New to Kitty Hawk in 2021, this business is dedicated to selling fresh, locally grown produce every single day. They source as much locally grown fruits and vegetables as they can get and also sell bulk nuts, seeds and grains, all-natural meats, international foods, gourmet foods and more.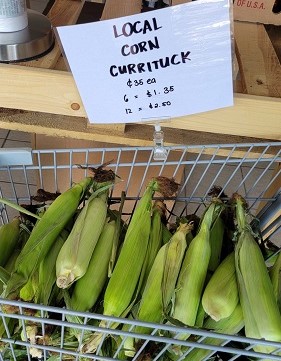 Local produce at OBX Greengrocers
Tarheel Too
Monday through Saturday, 10 a.m. to 6 p.m.
3105 N. Croatan Highway, Kill Devil Hills
Tarheel Too is a landmark on the central beaches. It's a little produce stand at Seagate North Shopping Center with a lot of locally grown goods, plus a few of the imported items you'll need as well, like bananas and pineapples. They also sell honey and some baked goods. Ask about what's in the cooler so you don't miss the butter beans and lettuces.
Currituck Mainland
Along N.C. Highway 168 in Currituck Count there are numerous farm stands and farmers markets, some big, some tiny, but all selling local produce. This is because Currituck County and the nearby counties are legendary for their productive farmland. Stop on your way to or from the Outer Banks to pick up all your favorite summer fruits and vegetables. Some markets also sell seafood, ice cream, baked goods and more.
Bon appetit!