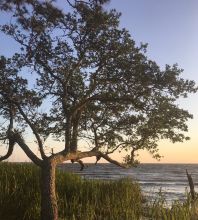 Those glorious summer-warm days of fall now seem to be in our rear-view mirror. The weather on the Outer Banks is finally turning brisk, and there's a nor-easter whipping up to boot. With cool temperatures and a fairly NE hard blow for the rest of this week and all weekend, it's going to be a great time to take refuge in the woods. 
If you've been feeling stressed or anxious lately (as if we have anything to be stressed about, she says sarcastically), studies have shown that getting into nature helps reduce blood pressure and stress hormones. Turns out, a simple hike in the woods is actually good for you.
To further the stress-reducing benefits of being in the woods, you can try the Japanese practice of forest bathing (shinrin-yoku). This is not a hike with a destination in mind. Forest bathing is more of a Zen-like meander through the woods in which you slow down and immerse yourself in the natural environment. You do this by tuning into all of your senses: inhaling the smells of pine needles and marshy mud, stopping to feel the textures of bark and leaves, noticing all the various shades of greens and browns, listening closely to the sounds of birds and rustling leaves, maybe even chewing on a piece of salt grass or tasting a piece of bark. While forest bathing, you sometimes close your eyes and reopen them as if you're seeing the world for the first time. You take full, deep breaths, remembering the vital interplay between your breath and the trees, and you keep your mind in the present moment, more like meditating.
It might not be immediately apparent, but there are some great pockets of woods to explore on these sandbars and islands. If you are itching to get outside but want to avoid the blustery beach this week, here are some suggestions for walking amongst the trees and wildlife and doing something good for your mind, body and soul.
Currituck Banks Reserve
Corolla
Currituck Banks Reserve encompasses 965 acres in the Corolla area and includes two nice, well-marked hiking trails to Currituck Sound. The 1.5-mile round-trip Maritime Forest Trail departs from the parking lot, which is at the northernmost end of N.C. 12, right where the paved road ends and leads to the 4WD area. The ⅔-mile roundtrip Overlook Trail on this site is wheelchair accessible but does not include as much maritime forest.
Kitty Hawk Woods
Kitty Hawk
Kitty Hawk Woods Reserve is 1,890 acres in Kitty Hawk, bordered by Currituck Sound. It includes maritime deciduous forest and maritime swamp forest and has some rather high ridges. Hiking trails can be found at the end of Ridge Road, at the end of Birch Lane and at the intersection of Amadas Lane and Colleton Avenue (4WD vehicle required). The Town of Kitty Hawk's multi-use path along Woods Road also accesses the reserve entrance on Covered Bridge Road. Parking for the path is located at Sandy Run Park or Paul Pruitt Park, both of which are on Woods Road.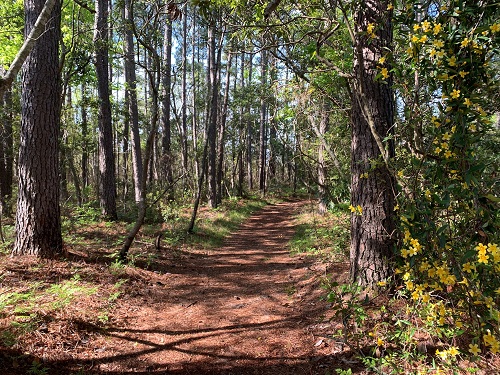 Photo: Nags Head Woods Preserve trail and photo of tree above courtesy of Nags Head Woods Facebook
Nags Head Woods
Kill Devil Hills, Nags Head
One of the largest remaining maritime forests on the East Coast, the Nature Conservancy's 1,400-acre Nags Head Woods Ecological Preserve offers nine trails through dense maritime forest, including a wheelchair accessible trail. The easiest way to access the trails and pick up maps is at the Preserve Visitor Center at 701 W. Ocean Acres Drive in Kill Devil Hills. In Nags Head you can access the woods at Nags Head Town Park, 415 Health Center Drive, or behind the Outer Banks Family YMCA, 3000 S. Croatan Highway.
Fort Raleigh National Historic Site
Roanoke Island
This 2.25 out-and-back Freedom Trail crosses through maritime forest on the North End of Roanoke Island. The end point is at a beach along Croatan Sound, then you turn around and make your way back. The trailhead is in the parking lot at The Elizabethan Gardens, 1411 National Park Drive, Manteo.
National Wildlife Refuges Visitor Center
Roanoke Island
The visitors center on the North End of Roanoke Island has 35 acres of forested land to explore via four trails, each of them less than a mile long. The center is at 100 Conservation Way off U.S. Highway 64
Alligator River National Wildlife Refuge
East Lake
Alligator River National Wildlife Refuge is a 152,000 acre refuge with plentiful roads and a couple of dedicated hiking trails. Creef Cut Trail is a one-mile roundtrip and universally accessible trail over a boardwalk and sidewalks. Sandy Ridge Wildlife Trail is one-mile roundtrip and a little more wild and rustic. The parking area for Creef Cut is right on U.S. 64 at Milltail Creek Road in East Lake. Sandy Ridge Wildlife Trail is at the end of Buffalo City Road, which is just of U.S. 64.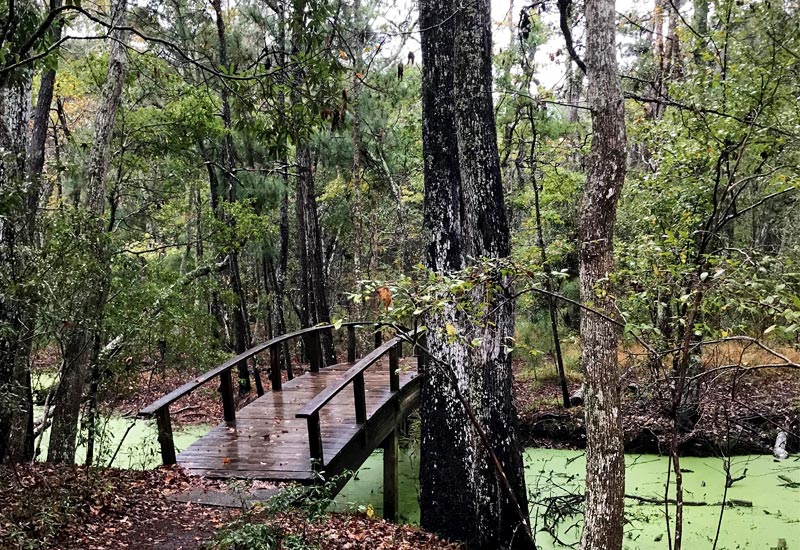 Buxton Woods
Buxton
Buxton Woods Reserve is a 1,007-acre site, mostly surrounded by Cape Hatteras National Seashore. The site contains the largest remaining contiguous tract of maritime evergreen forest on the Atlantic coast, along with rich diversity of subtropical and temperate species. Parking areas for access to hiking trails can be found off N.C. 12 on Water Association Road and from Old Doctors Road (4WD vehicle required at Old Doctors Road). 
The National Park Service has Buxton Woods access trailheads near Cape Hatteras Lighthouse. Buxton Woods Trail is an easy ¾-mile loop with an easy-to-find parking area very close to Cape Hatteras Lighthouse. The Open Ponds Trail is a 9-mile round-trip trail that traverses through dunes and maritime forest. The trailhead is near the British Cemetery between the picnic area and Frisco Campground.
Frisco Native American Museum
Frisco
Behind this museum in Frisco are nature trails winding through several acres of beautiful maritime forest. There are a few bridges to cross and pond to look at, and there's even a fossil pile filled with sharks teeth, shells and fossils dating back millions of years. If you haven't ever been inside the museum, you really should check this trove of Outer Banks and Native American history. It's open Tuesday through Sunday from 10:30 a.m. to 5 p.m. You'll find it right on N.C. 12.
Hammock Hills Trail 
Ocracoke Island
The National Park Service's Hammock Hills Trail is just across from the entrance to Ocracoke Campground. The ¾-mile loop winds through some dunes, shrubs ticket and maritime forest to Pamlico Sound. 
Springer's Point
Ocracoke Island
N.C. Coastal Land Trust's Springer's Point Trail offers more than 120 acres of maritime forest and other habitats to explore. A 0.8-mile trail leads to Pamlico Sound, and you can return via a loop. The trailhead is at 104 Loop Road, but there is no parking available. You'll need to bike or walk or have someone drop you off at the trailhead.