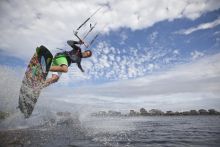 Just got back from a trip to Hatteras Island and my head is filled with such memorable images: Bodie Island Lighthouse wrapped up in scaffolding and a bonnet looking like a giant Q-tip; a dredge firing a stream of sand out of Oregon Inlet; hundreds of colorful kites bouncing over the sound in Waves and Avon; the Canadian Hole/Haulover parking lot full of kiteboarders and windsurfers in various states of getting into or out of wetsuits; a black Lab bounding over dunes to get to the ocean; RVs, campers and SUVs loaded down with bikes, kayaks, surfboards, fishing rods, coolers and gear galore; Native Americans dancing and singing in the sacred woods behind the Frisco Native American Museum. * Such enthusiasm for wind and water and nature. Far, far away from materialistic displays like the opening-day frenzy at TJMaxx in Nags Head. It just makes you love Hatteras...
The watersports outfitters on the island say these couple of weeks at the end of April and beginning of May are some of their busiest times of the year. * There's definite action on the island this week and it's just gorgeous in spring; go check it out...
Oh, you need more of a reason to go? OK, here's one: A Full Moon Tour of the Cape Hatteras Lighthouse. * This Wednesday, you can climb the completely dark lighthouse stairs carrying only flashlights at either 8:15 p.m. or 9:15 p.m. During the climb, park rangers will provide stories about the lighthouse keepers. Then, out on the balcony, you'll see what the keepers used to see. Tickets go on sale starting on Monday at the lighthouse ticket booth; get them early as only 30 people are allowed per tour...
Meanwhile: April? Where are you? I don't know how it was for you, but for me the first three weeks of April were a blur of busy weeks and busier weekends. I feel like I've got to grasp these last few days of April and squeeze as much juice out of them as possible...
Life has been busy for us on the Banks this spring. I'm long overdue for a weekend at home, tending to the yard and the garden, cleaning out closets and getting things in order. * This might be the weekend to do it. There's lots to do on the Outer Banks, mind you, but it's not a week jam packed with not-to-be-missed events like the last few. This is your chance to enjoy relaxing days punctuated with a few key outings...
When you're out and about on Saturday, stop by the Book Sale to Benefit Literacy at Belk. The Dare Literacy Council hosts this sale from 6 a.m. to noon; I found some great books at the last sale...
The Dare County Arts Council's Mollie Fearing Memorial Art Show opens on Sunday, May 2 at Roanoke Island Festival Park, giving us an opportunity to see what the local artists have been up to. The opening reception is Sunday, May 2 from 2 to 4 p.m., with Trio La Mer providing ambiance on strings and piano...
The Virginia Symphony plays First Flight High School on Sunday at 2:30 p.m. The program says classical music, so for those of you who like classical and not pops, this is your show. Tickets are $25 or $12 for students. Call 261-4636...
On Sunday, May 2, there's a worthy fund-raiser at Aqua S Restaurant in Duck from 4:30 to 10:30 p.m. It's the 2nd Annual Illuminating Hope Affair to benefit First Candle, an organization promoting safe pregnancies and the survival of babies through the first year of life. Locals Jessica, John and Penny Lenhart are sponsoring and it sounds like a fun evening of food, wine, music and an auction. Call 261-9700...
In the mood to go out this weekend? Friday's got it goin' on with the OBXtreme Magic Show at the Outer Banks Music Showcase; Practically Einstein at Kelly's (and Saturday too); Roots in the Sand for an early show (7 p.m.) at Front Porch Café in Nags Head; The Hazletones at Ocean Boulevard; and Atriumantra at Outer Banks Brewing Station; Matt Hoggard at Poor Richard's; and the Mo-Rons at Awful Arthur's...
One more thing: It's time to sign up for the Yuengling Nags Head Woods 5K Run and the Village Realty 1 Mile Fun Run lined up for Saturday, May 8. Here's your link: http://www.nagsheadwoods5krun.org/...
Here's where I sign off. * I'll be back with a new blog next Monday...
Check the site all week as businesses and organizations are adding new stuff here every day. If you've got a business or organization that wants to get the word out about something - a sale, a special, an event or a fund-raiser - click on Get Involved just on the right column of this page...
And put your 2 cents in. If you'd like to contribute or add your voice to this blog, you can do that below. Keep in mind that the blog comments are moderated so that this site is only putting positive vibes into cyberspace * We'd really love to hear from you...