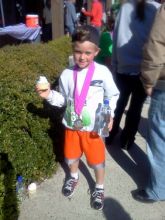 The Outer Banks is wild about running and races. That's a good thing, of course. It means there are enough healthy people living here and visiting here to fill up at least one race event per month, oftentimes more.
At the Outer Banks Go Far Bunny Hop 5K last Saturday, it was inspiring to see so many kids running the 3.1-mile course. There had to be just as many kids as adults in the race, and it was cool to see families running together. The race was a benefit for the Dare County Schools' Go Far program, a wildly popular after-school running club. In Go Far, elementary and middle school children meet twice a week for running training and character-building lessons. Under the leadership of Samantha Brown, the program has grown exponentially - more than 800 Dare County kids are participating this year - and that's creating a whole new crop of runners in the world. The Go Far program has another race, the Outer Banks Go Far 5K, on Saturday, May 5 at 9 a.m. in Southern Shores.
Inspired to walk or run one of the dozens of races held on the Outer Banks each year, Outer Bankers are getting in shape as they train for these events. Whether it's a marathon, half-marathon, 10K, 5K or triathlon, races provide a goal to move toward, and that's a super-motivating factor when it come to fitting exercise into your daily life. And training for and reaching that goal, no matter what it is, is always a confidence builder. Hang out by the finish line for any race, and the joy, relief and confidence you see on the faces will be one of the most inspiring things you'll ever see. Rising to a challenge, that's what it's all about.
Races do so much more than offer personal satisfaction, however. Races are a great way for nonprofit organizations to raise money and awareness about their cause. And, around here, races are a major tourism draw. Visitors come here specifically for race events, which means extra dollars in the restaurant, hotel and shopping sectors.
Outer Banks Sporting Events' marathon, half-marathons and other events are, of course, the best examples of this. The nonprofit organization was created specifically to organize sporting events to raise money for the Dare Education Foundation and the Outer Banks Relief Foundation, and the events have become huge tourism draws.
Outer Banks Sporting Events' big spring event, the Flying Pirate Half-Marathon weekend, is next weekend. The First Flight 5K set for next Saturday is sold out, but there is still room in the 13.1 mile Half-Marathon. And this year, Outer Banks Sporting Events has a brand-new event called Storm the Beach, Not Just Another 5K.
Storm the Beach is an adventure-style race that combines running, fitness challenges and obstacles. This type of adventure racing is all the rage right now nationally, with events like Warrior Dash and Tough Mudder becoming more popular than straight-up running courses.
"Adventure events are the up and coming thing to do," says Jim Snyder, race director of Outer Banks Sporting Events. "There are so many 5Ks out there. The market has evolved where people want another option."
Storm the Beach is a 3-mile course with 16 obstacles, and it's all on the beach starting at the Colington bath house. There's also a ¾-mile course with obstacles for kids, and families can participate together. Snyder says in terms of difficulty it's an average to medium course. It's not hard core like the Tough Mudder, but it will be challenging and fun and racers will get wet.
"I want people to finish and I want them to be smiling," says Snyder. "There will be some obstacles that make people think twice - the whole point is to overcome that and have fun."
One thing people like about adventure events is that it allows them to participate as teams. They can train together and race together, and that gives the event more of a spirit of camaraderie. So far, 250 people have signed up for Storm the Beach, most of them in teams. Of that number, only 36 are running as individuals. Space is still available.
Coming up this weekend is Corolla's answer to the adventure race. The Corolla Pedal-Foot-Paddle includes a 7-mile cycle, a 2-mile beach run and a 1-mile kayak paddle on the Currituck Sound. It's on Saturday at 8 a.m.
If you're still fine with a plain old 5K, you've got many opportunities to run this spring.
Ocracoke has its first fund-raising race, the Ocracoke Island 5K and Fun Run, on Saturday, April 28, and there are still spaces available. It's a benefit for Ocracoke School and the local radio station. I can't think of a better place to run.
One of the oldest races on the beach, the 29th Annual Yeungling Nags Head Woods 5K is set for Saturday, May 12, which is Mother's Day weekend. This race benefits North Banks Rotary Club, which distributes the money to various charities. Better register for this one early because it always sells out. The setting in the woods is really awesome, and the after party is really fun.
Hatteras Island's first annual Shore Break 5K is set for Memorial Day weekend to benefit the Hatteras Youth Fund. This one will be held in Avon, a nice change of pace for many runners.
The Outer Banks Running Club has a slew of events coming up for the rest of the year. One of the most popular - and the most difficult - is the Killer Dunes 2-Miler on the Fourth of July. This one entails running up Jockey's Ridge at 9 a.m. on a July morning. There's a reason why Killer is in the name of the event.
And take a look at Outer Banks Sporting Events to see their fall events - it's never too early to starting training for the Outer Banks Triathlon in September or the Outer Banks Marathon in November.
OK, so you know all about racing on the Outer Banks, but what can you do this weekend? We've got quite a few things going on, most of it night-time oriented. Take a look around our Outer Banks Nightlife and By Day sections.
A couple of things to keep a lookout for: Family Fun Day at the Wright Brothers Memorial in Kill Devil Hills. In honor of Wilbur Wright's birthday, it's free to visit on Monday, and they have lots of activities going on all day.
Also, the Land of Beginnings Festival starts on Monday. The festival is a celebration of local culture and history. It starts on Monday with the Living Legend Luncheon honoring Wanchese resident Moon Tillett. The storytelling events for the festival are on Tuesday (Roanoke Island), Wednesday (Kitty Hawk) and Thursday (Rodanthe) at 7 p.m.
Be sure to enter our Weekly Facebook Giveaway (see below). We're giving away the best stuff on the Outer Banks!

This week you have a chance to win a Hatteras Prize Package for a free tandem kayak rental from Hatteras Watersports plus a $25 gift certificate to Atlantic Coast Cafe!
For more information about Hatteras Watersports, check out their website.
For more information about Atlantic Coast Cafe, check out their website.
Last Week's Winner
Congratulations to Elizabeth Cater!!!
You won a two free passes for a Manteo Sunset Sail with the Downeast Rover and a $25 gift certificate to the Full Moon Cafe!
For more information about Downeast Rover Outer Banks Sailing Charters, check out their website.
For more information about Full Moon Cafe & Brewery, check out their website.