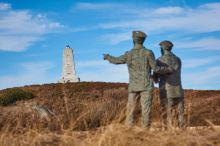 Here on the Outer Banks, the Wright brothers are part of our everyday life, so we sometimes take their accomplishments for granted. We often rush by the Wright Brothers National Memorial while running errands, dropping kids off at school or driving to dinner, breezing right past without considering their contributions to the world. It's the same with any national monument anywhere in the world, to be sure. Still, most Outer Banks residents and longtime visitors have a sense of local pride about the Wright brothers. Yes, Wilbur and Orville were from Dayton, Ohio, and they designed their flying machines there, but they actually experimented with their flying machines and launched the world's first powered flight right here on Big Kill Devil Hill, in what's now Kill Devil Hills but was at the time known as Kitty Hawk. So, basically, we claim them as our own.  
Photo: Wright Brothers National Memorial Facebook
And that's why it's so exciting for us to learn that a little piece of the Wright brothers is on Mars right now. The first-ever Mars Helicopter, Ingenuity, is carrying a Wright brothers' themed good luck token. Onboard is a tiny, postage-stamp-sized swatch of fabric from a wing of Flyer 1, the plane that made the world's first powered flight on December 17, 1903, on Big Kill Devil Hill. The swatch is attached to a small cable beneath Ingenuity's solar panel.
Ingenuity traveled to Mars with NASA's Perseverance rover on February 18. Perseverance's main job is to hunt for signs of life on Mars, but another of its tasks is to launch Ingenuity. If all goes according to plan, Ingenuity will lift off on the Red Planet as soon as April 8, and NASA is planning to make five short flights in a month-long window. If successful, aerial exploration will be more common in Mars missions in the future.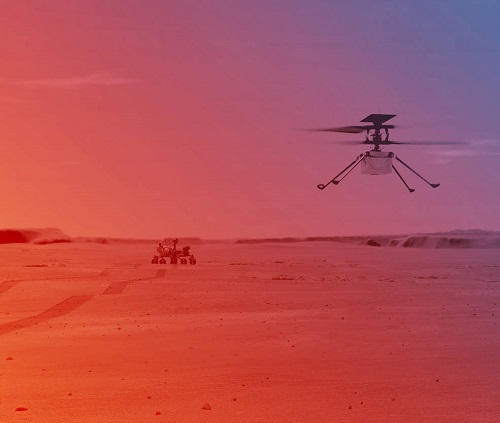 NASA's Ingenuity Helicopter is carrying a small piece of muslin from the wing of the Wright brothers' Flyer 1. Photo from NASA
If you're a local or frequent visitor to the Outer Banks, you might have become a little complacent about the presence of the Wright brothers. Maybe you've lost your excitement for the meaning of their contributions. That the NASA scientists are using the Wright brothers is a good reminder of their significance in the world.
If you need a little jolt of Wright brothers enthusiasm, or if you just need motivation of any sort, it's time to take a trip to Wright Brothers National Memorial instead of just riding by it.
When you climb the winding path to the top of the monument and stand up there in the breezes with a view of the ocean, sound and town, your perspective changes. It's awe-inspiring. The words carved on the monument – In commemoration of the conquest of the air by the brothers Wilbur and Orville Wright conceived by genius achieved by dauntless resolution and unconquerable faith – further that feeling.
Touring the museum at the memorial, you'll learn about the courage and determination of the two self-taught engineers. You'll learn about their application of scientific process and the teamwork they employed that changed our world forever. You'll see a reproduction of the 1903 flyer, and you'll learn about their experiments, the actual flight and the advances that have followed their historic flight. On the grounds you can tour the flight lines where the plane originally took off and landed, tour reproduction 1903 camp buildings and walk to the monument atop Big Kill Devil Hill. Every visit is a reminder of the human power of achievement.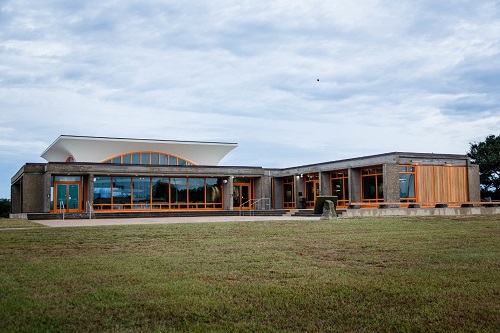 Wright Brothers National Memorial Visitor Center contains a museum and shop. Photo Wright Brothers National Memorial Facebook
Wright Brothers National Memorial is open seven days a week year-round, from 9 a.m. to 5 p.m. Fees are $10 for adults, free for children age 15 and younger or you can pay by the carload. These warm spring days are the perfect time to visit.
If you're looking for other fun things to do this week, visit our Daytime and Nightlife pages.