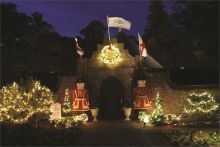 Putting ornaments on a tree, sending out Season's Greeting, watching A Christmas Story, baking assorted cookies – for me little moments like these complete the holiday season. Most of us probably have our own to-do list for the month. For many, that involves a set of objectives that must get accomplished, and we juggle it with the other items that we love (though may be guilty of putting into the if-there's-time-for-it category). Remember that the holiday season shouldn't boil down to gift shopping and cooking enough for a small army. When you need a breather from all of the bustle, check out this holiday list for Outer Banks activities, events, workshops and more that turn any Christmas fear back into Christmas cheer.
Photo: WinterLights, courtesy of The Elizabethan Gardens
Find Santa
The holidays mean you get to spend a little more time with your kids (and with your inner child). Keep them entertained with a few activities specifically for the little ones. Start with reports of Santa sightings on the Outer Banks. Santa Claus is Coming to Town on Saturday, December 9, at Kill Devil Hills Town Hall. Get a picture taken with Santa and play reindeer games, including sleigh rides, caroling and checking out the Christmas tree, all while enjoying cookies, apple cider and hot chocolate. And don't forget to bring a donation for nursing home residents or animal shelter rescues.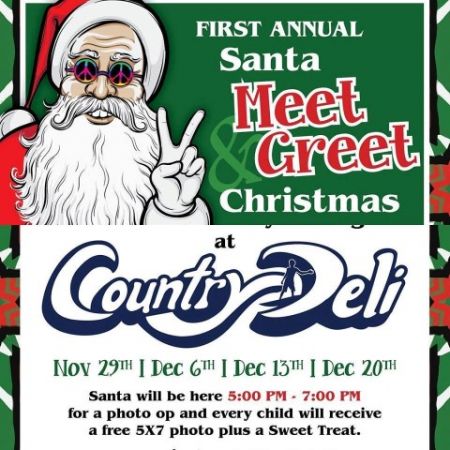 If you miss him on Saturday, fear not: Santa's hanging out at Country Deli in Kill Devil Hills for their Santa Meet & Greet event. Come for dinner between 5 and 7 p.m. every Wednesday night leading up to Christmas. Children will receive a photo of themselves with Santa and a tasty treat to go with it.
Get Jolly
Whatever you do, don't miss the Theatre of Dare's holiday show. Three actors, a ton of Christmas stories and an endless amount of fun accompany Every Christmas Story Ever Told (and Then Some!). Performances will be held on Friday, December 8, and Saturday, December 9, at 7:30 p.m. and on Sunday, December 10, at 2 p.m. at the Dare County Arts Council in downtown Manteo. Reviews from the opening weekend of the show say this one was a real side-splitter.
Hone Your Holiday Skills
Having visitors in during the holidays? Looking for a way to enliven your decorations or enliven your cooking repertoire? If you want to add to your collection of talents, The Spice and Tea Exchange in Duck and The Elizabethan Gardens in Manteo offer various classes and workshops that will help broaden your skill set and get ready for anything this season may bring. At The Spice & Tea Exchange, learn new recipes of Party Foods and Tea Cocktails on Wednesday, December 13, at 6 p.m., or discover how to Make Your Own Compound Butter on Tuesday, December 19 at 6 p.m. Want to relax but also need to be productive? The Elizabethan Gardens' Art of Centerpieces lets you do both as you craft a beautiful table centerpiece with materials from the gardens and enjoy a delicious dinner prepared just for you. This happens on Tuesday, December 12, from 5 to 8 p.m. 

See the Sights and Lights
For many of us the holiday season on the Outer Banks would be incomplete without certain events. One of these includes WinterLights in Manteo. From late November until late January each year, The Elizabethan Gardens turns into a bright and sparkling winter wonderland. Lights decorate the gardens' trees, bushes, topiaries and more. Your favorite holidays tunes fill the air as you wander and take in all the sights. If you feel that December nip in the air, make your way to the Great Lawn and warm your hands by the open fire. Visit WinterLights between 6 and 9 p.m. any Tuesday through Saturday in December for a quintessential Outer Banks event.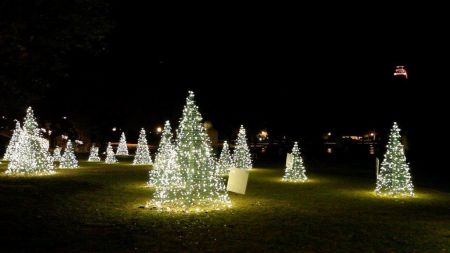 Enlightening holiday events continue at other historic locations on the Outer Banks. The annual Candlelight Christmas Tour at Whalehead in Corolla lets you get a glimpse of an Outer Banks Christmas in the 1920s. Tour this grand mansion's four floors – embellished with traditional greenery, seasonal produce and decorated trees – while basking in the glow of candlelight and snacking on cookies, cider and hot chocolate. Whalehead offers Candlelight Christmas Tours on Friday and Saturday evenings at 6 p.m. through December 16.
To be honest anything that involves twinkling lights and decorations sings "festive!" to me. As night settles in I suggest a casual drive around the Outer Banks neighborhoods to see the holiday lights. The most popular location is the Poulos house on W. Ocean Acres Drive in Kill Devil Hills. Park, get out of the car and walk around at this over-the-top display, and bring a little cash for the donation box to help pay the family's electricity bill. Another great spot is the Mennicucci house at 206 Clamshell Drive in Kill Devil Hills (in the neighborhood behind Belk). This family goes all out with the lights and decorations, and they go an extra step by collecting donations for nonprofit organizations. This year they are collecting monetary donations for the Cystic Fibrosis Foundation, pet food and goods for Outer Banks SPCA and food and hygiene donations for LifeLine Outer Banks.
---
Finding a way to unwind while immersing yourself in the holiday season is not a science. Whether it's a simple drive, a refreshing walk or an illuminating class, these Outer Banks activities and events will have you singing carols and decking your halls in no time at all. To keep up with other Outer Banks events, take a look at our Daytime Events listings and Nightlife listings.