Corolla Fish Report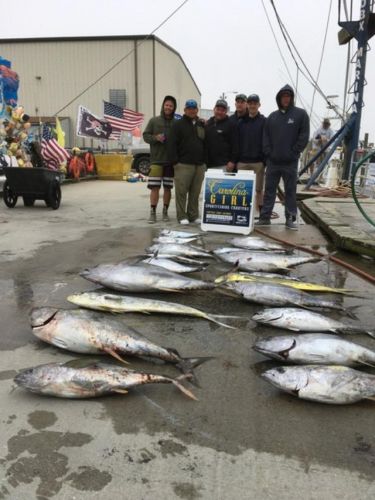 Offshore from Oregon Inlet
Inshore from Oregon Inlet
Corolla to Nags Head Piers
Corolla to Nags Head Surf
Corolla to Nags Head Sound
    Spectacular fishing in Corolla is going off!! Sorry for the late report but the surf fishing has gone off today. Lot's of drum with many in the slot along with trout, bluefish, spot, mullet. I have had people in all day today getting more bait and it seems they now want mullet instead of the shrimp that they had been hitting on. Remember also those spot fish your catching is there favorite to eat so if your throwing them back stop it. I have been told that this has been like this for the last couple of day's so good news for us.
   The piers have Spanish, bluefish, mullet and trout. The nearshore boats reporting some good drum fishing along with trout. There are also Spanish, blue's, sheepshead and cobia!!
   The offshore fishing has picked up right where it left off from the nasty weather we had at the begging of the week. Let's just say lot's of tuna just laying around on the docks along with some of there colorful friends the dolphin, there was a blue marlin released as well. I will try to get a report out a bit earlier tomorrow and we will keep you up to date.

Send those pictures in to obxbaitandtackle@yahoo.com  and if your booking a charter get it done early we will book out this week again.