Corolla Fish Report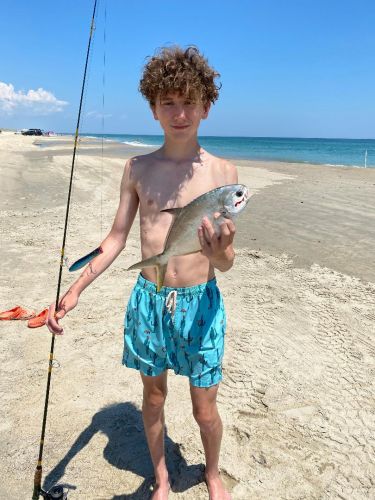 Offshore from Oregon Inlet
Inshore from Oregon Inlet
Corolla to Nags Head Piers
Corolla to Nags Head Surf
Corolla to Nags Head Sound
      Finally Friday, and the end to a pretty good week for everyone except for the new incomers next week with the impending storm that is approaching. You will see the waves and rip current start to pick up later today so just beware!!
     We have some good news to share and young Brady scored a nice pompano and I believe his first and I'm going to guess his 10-year-old brother Chase with his 14-inch mullet, so great job you guys and the fact we finally have some pompano in the water is good news. Thanks for the pictures we do enjoy them.
   In the surf, we have mostly mullet, spot, and croaker in the water and now we can say pompano!! There are spanish out there if you can get one bite.
    On the piers pretty much the same as the surf croaker, mullet, spot, and pinfish with some blues at OBX Pier. The nearshore boats are catching ribbonfish, red drum, spanish with some striper around the bridge. The offshore boats are finding some yellowfin, wahoo, and mahi which is good just not the numbers that it was at the begging of the month. The blue marlin is there for those looking for them and boats did have flags flying. The best fishing offshore has been the steady bite on the tilefish they are not only good eating but good size fish.

  There will be some charterers that get moved to later in the week next week due to the storm, so the charterers are going to be really full fast. Be safe and check ahead for those coming in this next week nobody is quite sure where this is going to land just yet and if there will be evacuations.

Thanks for sending in the pictures we do love to get them. Want yours in the fish report just send them to obxbaitandtackle@yahoo.com and we thank you.