Corolla Fish Report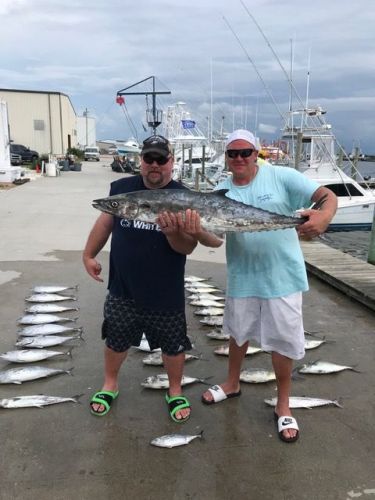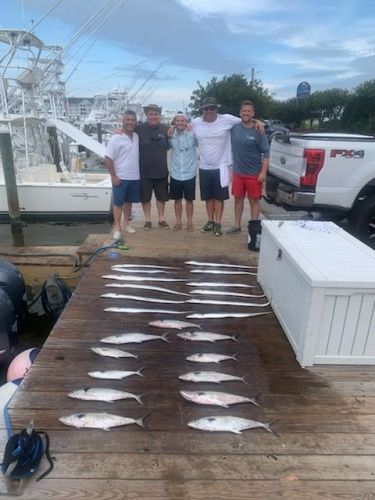 Saturday, September 12, 2020
Offshore from Oregon Inlet
Inshore from Oregon Inlet
Corolla to Nags Head Piers
Corolla to Nags Head Surf
Corolla to Nags Head Sound
   What A Week !! Last week the weather certainly did change up and it was windy with some rain but warm. Despite the rough weather, there were some nice fish caught. We have some quick shout outs to Tyler and company took a 6 hr charter out and with the windy conditions we had to move them around a bit to get them out but everything worked out and they ended up with some decent conditions and nailed the fish, as you can see in pic 1 and 2. They had a 30# king mackerel, a bunch of blue runners (rare) and false albacore, and some spanish. I would say a pretty good trip. Michael and company went out the same day on a spur of the moment trip and it paid off going out Friday instead of today because it is really windy out. They had a good trip caught ribbons and some nice size spanish so they got themselves some good eats.
   To round off last week as the new groups come in to see if they can out fish last week. and they are going to have a hard time I think. WE had a good amount of slot size drum and a few over slot last week. A good amount of spot, mullet, southern kings, pinfish, pompano, flounder with some blues and spanish. On the bayside, there were also over slot size drum caught as well. Nothing to report off the piers this morning what being change over day and all. The offshore fleet did go out and had a good day with plenty of dolphins, some yellow and blackfin tuna, wahoo, and there is exceptional fishing for marlin and sails. Also, a very good time to try for swordfish too.
  Today and at least for tomorrow it's going to be wind and really hard to hold bottom. We have a strong North East wind blowing 22 knots plus. A very strong rip current will be out also today so be careful!!  Waves today 4 foot plus and even bigger tomorrow with a water temp of 79 degrees.

If your thinking of a charter we do have openings but it will be later in this week before anyone will be going out with this wind. But there is always an alternative, with a crab and shrimp trip, and keep what you catch for a fantastic crab boil. Call us at 252-453-3339 and don't forget to send in your pictures to obxbaitandtackle@yahoo.com   We Thank you.