Corolla Fish Report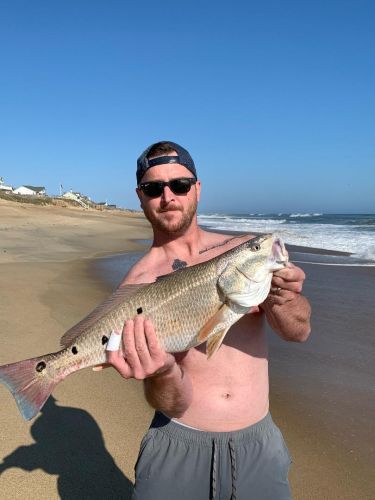 A dreary day we have today. We will probably get some rain and the wind out of the NE at 15 knots. The water sitting at 70 this morning. Want to give Matt Hepler from west Chester PA his just dues I somehow forgot to post his catch yesterday, I'm sure it's due to not having enough coffee, but Matt pulled out a beauty keeper and that's how it's done folks, nice job Matt. Word off the beach yesterday was that it was slow and I'm sure we will see the same today just due to the weather and the fact it is so slow in the shop this morning I can't stand it. We did hear about some trout getting pulled in and a couple of drums. The piers this morning have trout, mullet, spot, and black drum. Nearshore the only real news is that the trout and drum are still on the loose. The offshore fleet had some fun yesterday with black and yellowfin with mahi and wahoo for the dinner plate. They also released a sailfish and a white marlin.

   Butt not too worried things will improve !!

Send your pictures in so I may forget to put them on the fish report to obxbaitandtackle@yahoo.com and we appreciate it, have a great day.