Corolla Fish Report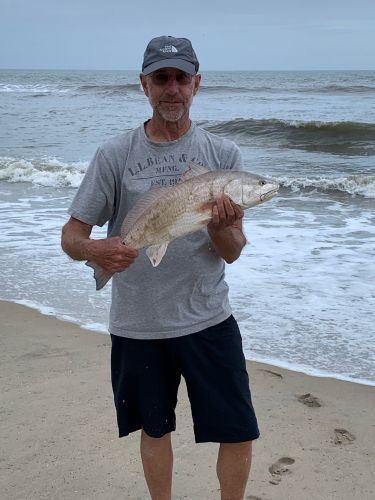 Friday, November 13, 2020
Offshore from Oregon Inlet
Inshore from Oregon Inlet
Corolla to Nags Head Piers
Corolla to Nags Head Surf
Corolla to Nags Head Sound
   Oh, the dreaded Friday the 13th and it has lived up to its hope for me. We did have some rain and we were closed yesterday. We are going to give a shout out to Chuck Hepler from Gap PA on his fine catch of a drum in the southern Corolla area proving to his kids he still has it!! Great on Chuck and thanks again for sending in the pic. We had some other folks in this morning fishing the sound side and hit some drum and some very nice size catfish which was dinner last night. So that just proves there are still drum running around with black drum, mullet, and some trout in some areas. Not much else to report from the piers and boats just due to the recent weather but there are still some folks out there trying.
   Friday the 13 started for us yesterday when we notice the water heater sprang a leak at the house and that was just the begging. The floors were buckled up and you couldn't get the tank to drain to get the dang thang out. Then we come back into the shop and it seems we had several roof leaks to deal with, oh yea!! So I hope Friday the 13th hasn't affected everyone but it did get us. We will keep you posted.

Got Pictures you can send them to obxbaitandtackle@yahoo.com  and we thank you.