Corolla Fish Report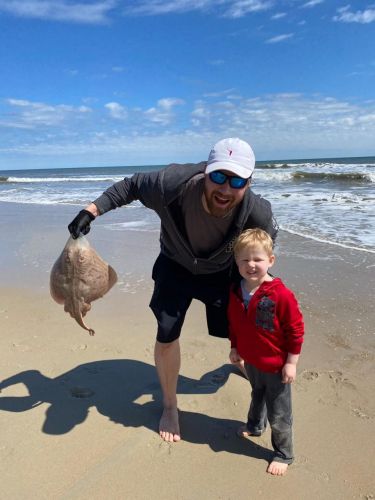 Offshore from Oregon Inlet
Inshore from Oregon Inlet
Corolla to Nags Head Piers
Corolla to Nags Head Surf
Corolla to Nags Head Sound
   Better late than never. Kind of off to a rough and slow start this year. We just had a tone of fright come in which is a good thing but not all at once. A little rain this morning and a cold wind hopefully it passes quickly, I am ready for some warmer weather. We did lose a couple of degrees on the ocean temp today back to 48.
   Correction from yesterday we have 3-year-old William and his dad Derick with his first fish and they were from Raleigh and I think he looks happy. Thanks again for the photo.
   So some good news did come in from one of our captains and there are albacore and ribbonfish just offshore for those 1/2 day boats to get to. The trout are not on the bite yet we are still a couple of degrees off yet. There are yellowfin and some bluefin out on all-day trips now. It's not a lot but it's something !!
  Now for charters, I will say there are boats running but most of our fleet is still in dry dock, sorry to say. Several of our captains upgraded their boats and are working as fast as they can to get ready. Boat parts are hard to come by right now and the marinas look like a war zone with everyone trying to get repairs not to mention the part delays     So anyone wanting charters book early we are seeing a lot of booking coming in all over the place. This next week there are only two or three spots left open. Even a lot for the summer season already as well, so just plan ahead if you're coming to the banks.
Check us out on the web and feel free to e-mail us I do try to reply as soon as I can. We will keep you up to speed as best as we can thanks.