Corolla Fish Report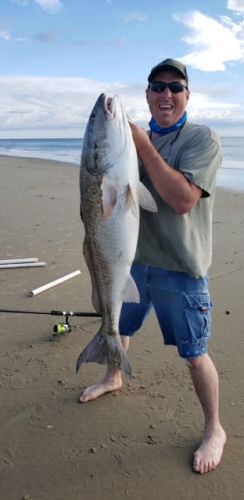 Offshore from Oregon Inlet
Inshore from Oregon Inlet
Corolla to Nags Head Piers
Corolla to Nags Head Surf
Corolla to Nags Head Sound
Offshore from Hatteras Inlet
   BA BAMM!!! We have some news and excitement. A big congratulations to Jack from Virginia scored this very nice drum not far from the shop. He did it the right way to boot and caught some mullet from the surf then used that to catch this drum and folks that's how it is done, so great job Jack and thanks for the pic. We had another nice pic to share from Jane Doe formally known as Beth see I told you I would protect your name, shared a photo with me and I am so sorry Beth I must have done something wrong because I have looked all over for it and it must not have gone through. If you want to try and resend it I would be happy to post it and honestly I am kinda bummed. 
   So here is a little recap from last week. We had a lot of wind which is still blowing hard and much cooler today. The wind will shift tomorrow. The water has been very clear up here and reports that you can see plenty of fish in the water but they just don't want to bite. There is a bunch of bait also in the water which could mean they just aren't hungry. The same goes for up and down the beaches. The water is at 57 today and I had a report from one angler that found a good hole with a great mullet bite. There have been a couple of large rays come in and some puppy drum so in some cases, the fishing has improved a touch in some areas but it is still going to be on the slow side. Seagrass has been a problem as well, it loads your line up or tears your bait off so the fish just can't get to it, and hopefully, this problem goes away. We are seeing the fish on the move and at some point, it's going to explode, it's like winning the lottery if you're here at the right time and place you will hit it big!
   There is still a great drum bite down in Hatteras at the point and some good fishing from ramp 49 and down. The charter fleet has been slow on the offshore fishing but the few that have been out still brought home plenty of table fair for dinner. Inshore has had drum and trout while nearshore had albacore and mullet.

Send your photo and we will put you in the next report to obxbaitandtackle@yahoo.com
Book your charter today just give us a call and we get you all set up the offshore fishing is good so book and plan ahead to ensure your trip. We will keep you posted on  the conditions up here.