Corolla Fish Report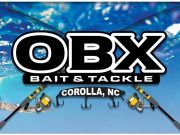 Offshore from Oregon Inlet
Inshore from Oregon Inlet
Corolla to Nags Head Piers
Corolla to Nags Head Surf
Corolla to Nags Head Sound
Offshore from Hatteras Inlet
   A real nice morning today and a great time to go out and throw a line in the water. We do expect some storms later this afternoon till around 6 o'clock tonight. The water temp today is holding at 59 and I would just like to see it in the low 60 degrees but we will take what we get. We should be seeing a good mullet bite and anything else is going to be a bonus. There are no reports off of the piers this morning. The little bridge over the weekend saw a good trout bite and a lot of white perch move in as well so another good sign of things beginning to heat up. Down at the point, the red drum bite continues and it has been strong for about a week now so a good time to score one of these big fish. If you want to shorten up the drive there is some good fishing from let's say ramp 44 on down for mullet and trout and some puppies and black drum. The nearshore boats scoring some good action on the king mackerel and there are false albies out there to boot with some blues. Inshore is on the trout and some nice-sized drum. Offshore had a few boats running out on the weekend and the yellowfin was a little scratchy but they managed to bring some home with blackfin wahoo and a pretty decent mahi bite.

   Charters are available give us a call and we will get you all set up and ready for a great day on the water.
Don't forget to send your photos to us we will post them proudly in the daily fish report. Send to obxbaitandtackle@yahoo.com and we than you.