Corolla Fish Report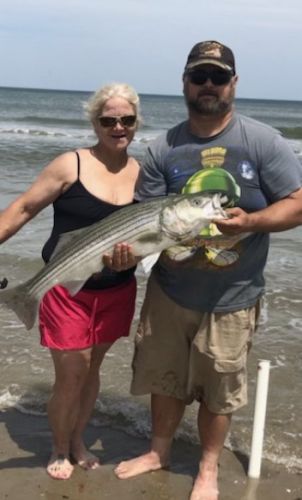 Offshore from Oregon Inlet
Inshore from Oregon Inlet
Corolla to Nags Head Piers
Corolla to Nags Head Surf
Corolla to Nags Head Sound
   Do you believe in beginner's luck, I do and have seen it many times. Tammy and Hardy from Locust NC were out fishing yesterday morning and was Tammys first time. About 20 minutes later she landed this nice striper so congratulations Tammy a job well done.
   The water temp dropped to 57 last night and we had a good thunderstorm roll through in the afternoon. We did get a report in this morning of a couple of guys hitting the beach after the storm to give it a try expecting nothing and the mullet bite was on as soon as the bait hit the water. We are starting to see the fishing begin to improve with mullet and the spot are moving in as well. This will generally mean that some of the good stuff is not far behind as they will follow these fish up the beach. The first cobia was scored of Avalon pier yesterday also another good sign and the nearshore boats caught a few too. The king mackerel are not far offshore and they found some large black drum off the coast too, so more good signs as the fishing is picking up. Offshore was a little scratchy but they did bring home yellow and blackfin with a decent wahoo bite and the dolphin fish are there as well. All in all, not too bad, and things will only get better.

Want to go offshore fishing give us a call and we will get you all set up and trips are filling up so plan ahead and book as early as you can.
Send your photos to obxbaitandtackle@yahoo.com and we will put you in our fish report and May the 4th be with you!!