Corolla Fish Report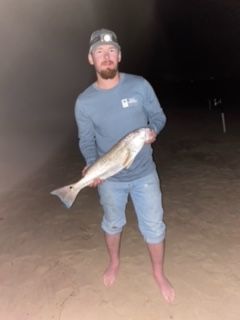 Offshore from Oregon Inlet
Inshore from Oregon Inlet
Corolla to Nags Head Piers
Corolla to Nags Head Surf
Corolla to Nags Head Sound
   I expected more from this week but it feels like the fishing may be a little scrappy. However, Terry Morgan sent in a photo of his catch yesterday and landed this nice drum in Duck so great job Terry and thanks for the pic. The water temp is 68 today and I think there is a strong rip today so trying to hold the bottom may prove to be rough. We finally are getting the water temps we need but the fishing has been slowing or at least that's the feeling I'm getting. I expected the fishing to really pick up to end this week on a big bang. There does seem to be some good bites towards the late afternoon when there is a title change so maybe a good time to hit the beach and try. The piers a little slow this morning with some bluefish but again they seem to end the day with some good fish. OBX pier reports good bite on slot size and above drum bite. This weekend the wind is supposed to die off.
  Nearshore boats yesterday had a good day with a good cobia bite there were quite a few fish to be caught. along with spanish. There is also some good trout fishing and drum on the inside. Bot the offshore fleet is just having a tough time out there. The tuna are a good size but have been hard to find. A few wahoos hit the deck and there were also blue and white marlin caught. The bottom fishing still remains good for sea bass and the tilefish so you won't come home empty-handed in any case.
  Well, Matt up on the 4x4 beach has been quiet but I just had a bunch of his crew come in the shop just now and Matt your behind in your updates but apparently, he has been getting some nice fish in. It has been slow up there as well but a good bite later in the afternoon has been the same case up there as well  He did land some good size black drum and it looks over the slot on the drum so I'm sure Matt will send in those pictures when he can I mean he is on vacation I can only expect so much.

Charters are available give us a call anytime.
Send your photo to us and we will use them in the fish report. Send them to obxbaitandtackle@yahoo.com