Corolla Fish Report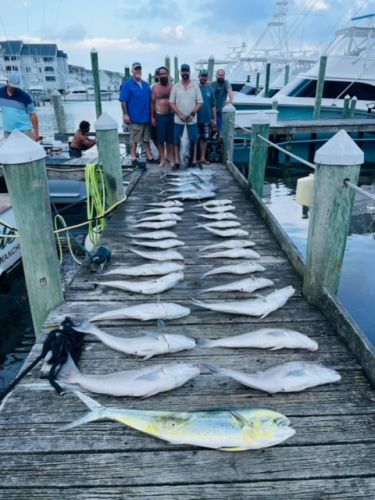 Offshore from Oregon Inlet
Inshore from Oregon Inlet
Corolla to Nags Head Piers
Corolla to Nags Head Surf
Corolla to Nags Head Sound
   Another Saturday check-in day and WOW was the traffic bad getting out this morning. We do have some overcast weather today but things should clean up tomorrow afternoon. The water temp is at 70 this morning and we have a good wind from the northwest maybe we will see the drum fishing pick up. We will have some larger waves to deal with also. We have seen this last week good runs on some large mullet. Some trout and bluefish have been hitting both lures and bait. Bait still seems to be shrimp, bloodworms, and fish bites. The water may be a little dirty today but should clean up and let's hope the fishing picks up a touch.
  On the piers, we have some bluefish and mullet this morning. The nearshore boats are still getting some great action on the inside for puppy drum and trout and on the outside, they have seen trigger, sea bass, Spanish, and blues. The offshore fishing has been steady with a bump here and there but for the most part, they are bringing home some quality fish. The pic above is an example of the bottom fishing and the tiles are good size along with some mahi in the last couple of days. The yellowfin and big eyes are very good size and there are billfish out there for your enjoyment as well. It's a new week and new fishermen and some familiar faces this week we will see how they do and keep you updated.

Charters are available this week just call for info.
Send your photos to us at obxbaitandtackle@yahoo.com   and we thank you.