Corolla Fish Report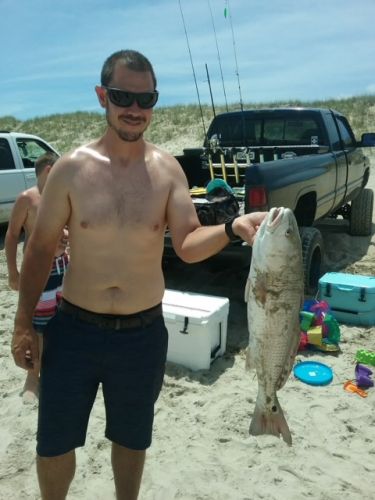 Offshore from Oregon Inlet
Inshore from Oregon Inlet
Corolla to Nags Head Piers
Corolla to Nags Head Surf
Corolla to Nags Head Sound
   Kevin Gerber and family are up this week and they are good friends of ours and they are showing off their 26.5-inch puppy drum caught on pink shrimp fish bites and we know no there are some drum out there well done you guys. It is a bit of a tough week for fishing we have had a strong rip current out there but I did hear it did lay down late yesterday afternoon so I hope it continues. There is a tropical disturbance off North Carolina and we have a low pressure moving over us which is causing the rough surf. The fishing along the shore has been somewhat slow but that is fishing and it can change at a moment's notice. There have been mullet and skate and flounder along the beach and now maybe we see some other goodies begin to come in for our enjoyment.
  We do have 70-degree water temp and the piers are picking up this morning with some puppy drum activity, flounder, Spanish and, bluefish which is a god sign so maybe we see an improvement along the beach today.  
  If yor have a charter boat lined up you should be having some fun the inshore guys are getting plenty of puppy drum and trout and on the outside they are killing the Spanish and bluefish. The offshore fleet had a fantastic day on the water. The water conditions were very good and the sunshine yesterday didn't hurt either. Plenty of yellowfin and mahi hit the docks with some wahoo and blue marlin released.

Send in your photos to obxbaitandtackle@yahoo.com and you can become an overnight sensation too and see your smiling face on the fish report!!

Charters plan on booking now for July and August to ensure your spot low $$ to reserve your spot today call 252-453-3339  We also have twilight trips available to fish or just relax and watch the sunset Trip times are 5 pm to 8 pm and e thank you and we will keep you posted.