Corolla Fish Report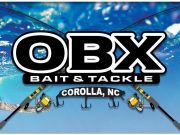 Offshore from Oregon Inlet
Inshore from Oregon Inlet
Corolla to Nags Head Piers
Corolla to Nags Head Surf
Corolla to Nags Head Sound
   SLOW is the word of the day. I am not hearing much off of the beach and we have had some drum and mullet but overall it's slow along the beach. We have another storm coming in and should hit us around 3 o'clock or so today. It is already windy out this morning and overcast. The water temp is 64 but a far cry from the 75 of last week and I'm sure the fish aren't too happy about it either. The pier reporting some bluefish this morning and I doubt any boats are running today, due to the wind so not much to report there. We would get some good weather the rest of the week but may have some rain over the weekend hopefully late afternoon thunderstorms.

We do have a charter or to available this week for Thursday anyone interested just call the shop and we will get you all set up.

Send your pictures or questions to obxbaitandtackle@yahoo.com  and we thank you!