Corolla Fish Report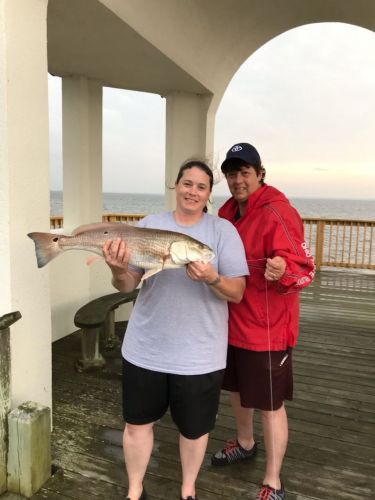 Offshore from Oregon Inlet
Inshore from Oregon Inlet
Corolla to Nags Head Piers
Corolla to Nags Head Surf
Corolla to Nags Head Sound
  Let's start off with the only news we have and we congratulate Kathy Baker from Ohio on her slot size drum caught sound side on the Monterey shores pier using salted clams. I am not sure but this may be her first time fishing she was in asking how to rig for the sound side we gave her a couple of tips and it appears they paid off so great job Kathy!!

  Well the weather certainly has not been on our side for surf fishing, and the fishing has been slow and there has been a strong rip current as there will probably be on today as well. Some good news the water temp has popped back to 72 degrees this morning so a good time to hit the surf and give it a try. Word from the beach has been mostly southern kingfish and croaker but each day can be different and you just don't know unless your line is in the water.
  For the boaters, not much to report just due to the weather but one of our sound side boats is doing well and catching drum, catfish, and white perch, and this boat runs right here out of Corolla so for those of you that don't want to drive an hour to the main marinas you do have an option of staying local and they also offer crabbing trips. Just call the shop we have a whole bunch of trips available including twilight trips from 5 pm to 8 pm you can just enjoy a boat ride and watch the sunset or get in some evening fishing in your choice.

Book ahead of time if you wanting a charter fishing trip don't wait till the last minute boats and time slots are hard to come by.

Send your pictures and questions to obxbaitandtacke@yahoo.com  and we thank you.