Corolla Fish Report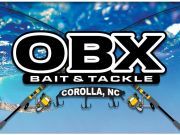 Offshore from Oregon Inlet
Inshore from Oregon Inlet
Corolla to Nags Head Piers
Corolla to Nags Head Surf
Corolla to Nags Head Sound
   Gorgeous day out here today!! The word off of the beach is quiet and I have not heard much feedback. Saturday I heard there was a good mullet bite but has been quiet since then. I wish I had more to say or give you. The water temp is 68 which isn't bad but I did hear that the current was rough to hold bottom so I'm not sure why that is for now. I will try to find out some more info.
  The nearshore boats had some good fishing if you were able to find one and brought in Spanish, cobia, and some drum. The inside blues, puppies, and trout. Offshore was a big eye kind of day and these fish were 200 #s plus and there were a lot of them. Some mahi were around with wahoo and some yellowfin and billfish. That's it for today we will check back in tomorrow.

Send those questions and your pictures to obxbaitandtackle@yahoo.com  we will put you in the daily fish report and we thank you.