Corolla Fish Report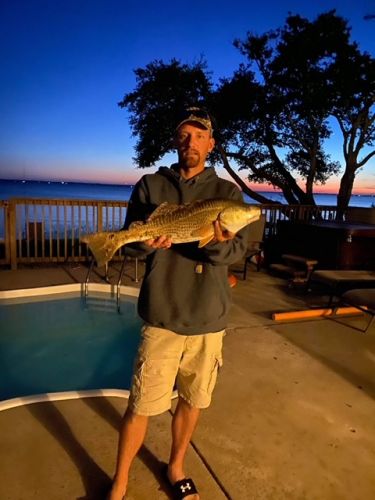 Here comes the wind. It should be fishable today and I did hear that the current has calmed down this morning and we did have a report come in off the beach from Derick Brown catching spot and mullet off of bloodworms and shrimp. A correction from the other day it was Michael Brady that caught the big carp so congrats to you Michael!!
The fishing is still on the slow side of things for whatever reason along the beach even the piers are slow. The nearshore boats did well yesterday if you were lucky enough to have a charter and they brought back albacore, Spanish, bluefish, drum, and even some king mackerel. The offshore boats still on top of the tuna with some big eyes and yellowfin, mahi, billfish and the bottom fishing is great with some big tilefish and oh so good on the BBQ!! Friday weather is just up in the air, for now, we will just wait and see what we get from old mother nature but it will be windy for sure.

   We have shrimp and crab charters getting ready to fire up this month as the shrimping season opens up and is a great way to have some family fun and see how to catch shrimp and crabs and your not just watching how it's done its hands-on learning, the best part you keep what you catch. These trips are 4 hours and run two times a day from 6 to 10 am and 4 to 8 pm and run $475.00 and the boat can accommodate up to 6 passengers. Just like other charters if this is something you would like to do plan ahead and book early to get a spot these are popular trips and fill up fast. Call anytime and we will get you all set up in most cases a 50.00 deposit will hold your trip.

Send your photos and any questions to obxbaitandtackle@yahoo.com   and as always we thank you!!