Corolla Fish Report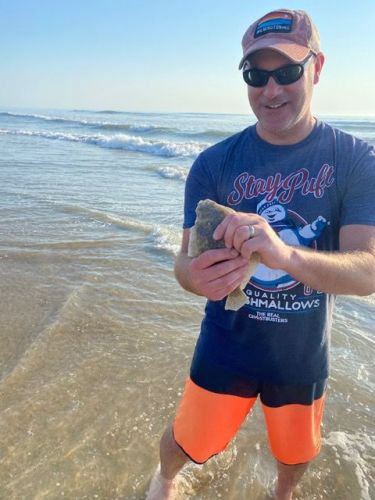 Offshore from Oregon Inlet
Inshore from Oregon Inlet
Corolla to Nags Head Piers
Corolla to Nags Head Surf
Corolla to Nags Head Sound
   It's true Ohio man catching fish !! David sent in his photo of his flounder and yes it's out of season and small but never the less he did catch a fish.  David and his friend came in and wanted to surf fish and both of them had great attitudes and were a lot of fun to talk to we got them all set up with what they needed. As long as they were on the beach fishing they didn't care if they caught anything but low and behold he did. Thanks for sending in the photo David.
  The water is looking fantastic today we have calm winds and a 73-degree water temp and we had a walk-in fish report this morning. Drum, bluefish, mullet were on the hook as soon as it hit the water and then the bite shut down about 9:30 just like turning off a light switch. I would bet that we see a good bite at dusk tonight with the high tide at 5:21 pm this evening, so make sure you out there before, during, and as it's going out.
  The boats are doing good nearshore has had a mix of albacore, king mackerel, Spanish, bluefish. Offshore get it while you can as the swell is starting to pick up and could just be a wash for Thursday and Friday. They are getting tuna, wahoo, marlin along with great bottom fishing.

Send your questions and pictures to obxbaitandtackle@yahoo.com  and we thank you.