Corolla Fish Report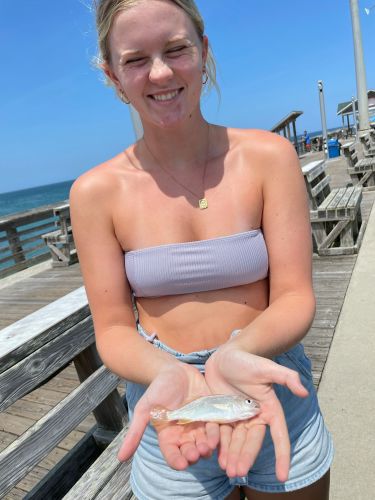 Offshore from Oregon Inlet
Inshore from Oregon Inlet
Corolla to Nags Head Piers
Corolla to Nags Head Surf
Corolla to Nags Head Sound
   Top of the morning to you. It's going to be another hot one and we have 1 to 2-foot waves in the surf with 68-degree water. We want to give a shout out to Sarah Gulley for her first saltwater fish that she caught now usually the beginner's luck kicks in for the first-timers and they land a big one. Now nothing to be ashamed about we have to take what we get so Sarah congratulations well done and I'm sure there's a big one with your name on it. 
  The local surf fishing right now has been up and down and there are mullet croakers, spot, and some bluefish, flounder which are still out of season getting caught. It just seems and feels a little off so far this season. The folks fishing for sharks are doing very well and having a great time. But it is what it is we just take what we get.
  The nearshore boats are doing well with Spanish, bluefish, false albacore, and ribbonfish. On the bayside, the drum and trout will keep you busy on your trip. The offshore fleet are enjoying some fantastic fishing right now and finding good numbers of yellowfin, big eye, mahi, white marlin, and blue marlin and the bottom fishing remains strong with limits of tilefish. Around the towers, you will find some nice size amberjacks!! so the fishing is just on fire now out there with most boats getting their limits.

We do have some charters available just call the shop for availability.  

Send your questions and photos to obxbaitandtackle@yahoo.com    and we thank you.