Corolla Fish Report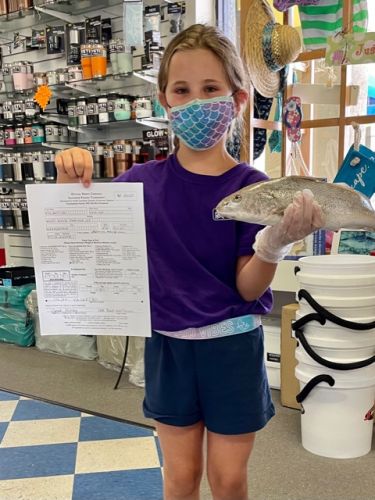 Offshore from Oregon Inlet
Inshore from Oregon Inlet
Corolla to Nags Head Piers
Corolla to Nags Head Surf
Corolla to Nags Head Sound
  Late Friday report. Congratulations go out to young Claire with her first citation mullet she caught while fishing with dad and was 16 inches long and came in at 1.51 lbs and she will receive her citation in the mail shortly so great job Claire.
  It has been somewhat of a mixed bag this week, the weather has been great and most people are catching fish but I have talked to a few today that have caught absolutely nothing all week. Sometimes you really don't know what to say to folks especially when it sounds like they know what there doing. It may just come down to location for whatever reason. We did have some trout hit this week along with mullet, croaker, and spot. Lots of sharks were pulled in and some big rays. The piers have seen some good action too with some big king mackerel hitting the rail along with an assortment of other fish and is a great way to spend a day fishing and it's really not that far of a drive from Corolla. The nearshore boats doing well with king mackerel, ribbonfish, albacore, triggers. On the inside, there are some big drum to be had and trout. Offshore is still good with blackfin, yellowfin, wahoo, and marlin, and sails. The bottom fishing is good as well with several different species of tilefish this time of year.

Charter folks I can't stress enough about booking early if you're going to wait till you get here you may not get to go it's just that simple. Reserve tour tip as soon as possible.

Send your pictures to obxbaitandtackle@yahoo.com    And we thank you!!