Corolla Fish Report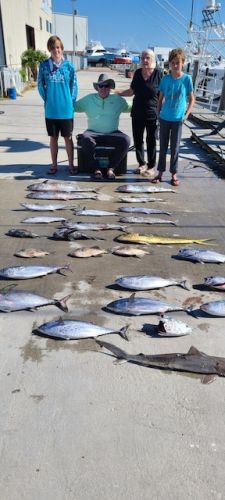 Saturday, October 2, 2021
Offshore from Oregon Inlet
Inshore from Oregon Inlet
Corolla to Nags Head Piers
Corolla to Nags Head Surf
Corolla to Nags Head Sound
   In and out Saturday. Yet another change over day so the reports will be slow as a new crowd moves in this week. I am expecting to see some familiar faces this week which I am looking forward too. This last week was a pretty dog gone good week there were a couple of slow days in the first part of the week but it did turn around. There was a good drum bite along the beach a lot of them caught up near the state line and some around Corolla light and these were big fish. There plenty caught in the slot and the trout bite did pick up and there were some nice fish landed. Mullet, croaker and spot are in the surf as well. Most of these fish have been caught on cut mullet but shrimp and fish bites have also been working. This week is looking very nice for those coming in.
  I believe I heard on the news this morning that the part of the old bridge down at Oregon Inlet that was turned into a pier is now open which will be interesting to try and is located where the sound meets the ocean so there is probably going to be some good fishing there and gives anglers a new place to fish.
  The piers are slow this morning with some spanish and blues. Nearshore boats doing well with spanish, blues, albacore, ribbons and even kings. Inshore action had plenty of striper and trout on there lines. One of our captains even found some blackfin tuna 6 miles offshore. Offshore fleet had another spectacular day with tuna, mahi, wahoo and some sailfish came to the side of the boat.
  Reports this morning and we are seeing puppy drum around 20" and a good mullet bite.

  Water temp is at 73 with 2 to 3' waves with a SSW wind at 2 knots.
Charters are available this week from 1/2 day to all day.

Send your photos to obxbaitandtackle@yahoo.com  And we thank you.