Corolla Fish Report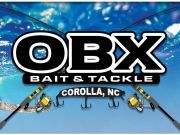 Offshore from Oregon Inlet
Inshore from Oregon Inlet
Corolla to Nags Head Piers
Corolla to Nags Head Surf
Corolla to Nags Head Sound
   Well just more of the same!! We are still seeing big red drum if your into that sort of thing, with most of them caught in the evening. We have seen some in the slot along with mullet, croaker, pinfish, black drum and pompano. The fishing really isn't to bad and if you score one of the big ones it's a bonus. We have handed out several citations in just the last week and if yo don't know what a citation is it's an award for catching a certain size fish and releasing it and you can hang it on your wall for bragging rights. It is fairly windy today and slow in here but a great time to be out fishing. The water temp is still at 73 with 2 to3 foot waves. The piers have puppy drum, spanish, blues and speckled trout on them. Nothing much to report on the boats a little breezy out and will remain that way foe a couple of more days and then it will calm down but we will see a north wind for pretty much all of next week so the drum bite should continue.

Charters are available call the shop for details 252-453-3339

Send your photos to obxbaitandtackle@yahoo.com   And we thank you.