Corolla Fish Report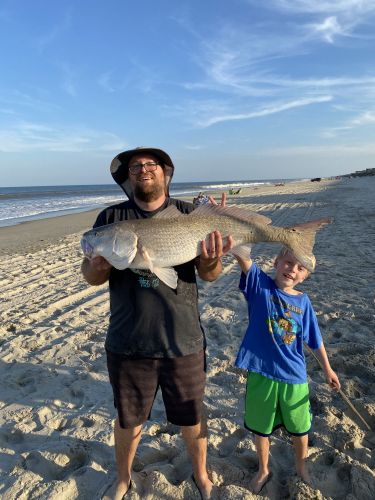 Saturday, October 9, 2021
Offshore from Oregon Inlet
Inshore from Oregon Inlet
Corolla to Nags Head Piers
Corolla to Nags Head Surf
Corolla to Nags Head Sound
  We have a rainy and windy weekend ahead of us which will put somewhat of a damper on your activities. Water temp is at 73 with 2 to 3 foot waves and despite the weather there should be drum out there. Congratulations to Jesse Baker from N Chesterfield VA on his catch of a nice drum that was caught last Sunday they didn't have a scale or tape measure but it's fare to say it's a big one The photo sent in by Gene Selbo and thanks Gene it's a nice photo.
  Along the beach reports are pretty quite just due to the weather and we are in a change over week. We have heard of some trout hitting the beach with black drum, mullet, croaker and small pompano. Conditions are fairly rough and we are going to see this north wind continue foe most of the week so we should see some decent fishing. Shrimp, bloodworms, cut mullet and fish bites seem to be doing the trick as far as bait goes. The piers this morning are seeing false albacore, pinfish, croaker and pompano. The nearshore boats have striper and trout on the inside and it's just to rough for anyone to get out of the inlet right now and the same goes for offshore boats they will remain tied up to the docks for today and tomorrow.

Charters should be able to get out next week and we do have openings just call for details.

Send your photos to obxbaitandtackle@yahoo.com  And we thank you.