Corolla Fish Report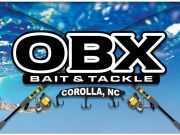 Offshore from Oregon Inlet
Inshore from Oregon Inlet
Corolla to Nags Head Piers
Corolla to Nags Head Surf
Corolla to Nags Head Sound
   Good Friday afternoon and we have a late report for you. I finally made it out with some friends and family this morning to get in a little fishing. The conditions were nice out, the water was a little dirty but the fishing we did for three-plus hours was pretty good and at low tide. We had small black drum small pompano some big mullet, trout, flounder, and a 19 1/2 puppy drum so a really nice morning. I am hearing about a bunch of bluefish but I'm not sure of the location of these fish. There has also been some good size trout caught and some nice drum as well along with all the mullet and other fish. The local piers have big drum again on them with blues, perch, mullet, and trout. I talked to one angler today that just came back from Avon pier and he said the drum bite was crazy down there so it might be worth the drive. the boats are back out there running finally with the nearshore action as Spanish, blues, and ribbons. Offshore bright home big eye, yellowfin, and mahi along with white and blue marlin.

Charters are available just call to book yours!!

Send your photos to obxbaitandtackle@yahoo.com   And we thank you.