Corolla Fish Report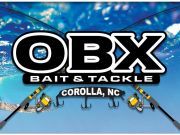 Saturday, November 27, 2021
Offshore from Oregon Inlet
Inshore from Oregon Inlet
Corolla to Nags Head Piers
Corolla to Nags Head Surf
Corolla to Nags Head Sound
    Thanksgiving weekend comes to an end. This morning a lot of folks are on their way out of town bringing this season to an end and we will officially close the store on Sunday. We will reopen for the Christmas and New years week before shutting down for the season.
   It is cool out this morning and we will see a little warm-up this next week. We did hear from one angler yesterday and he had a report for us. So far this he has caught not one but two chunks of seaweed a length of rope from a trawler and a 5-foot piece of duck tape. I really wish I had a picture to go along with the report and I'm not joking that's what he had caught this week. This will probably be our last report of the season I may chime in from time to time but there really won't be much to report till we ramp back up for next season.
  We want to thank everyone that helps support this store and wish you all a great Christmas and New year holiday and may we all get back to normal if that's even possible, wish you all well be safe, and may we see you all next year!!