Corolla Fish Report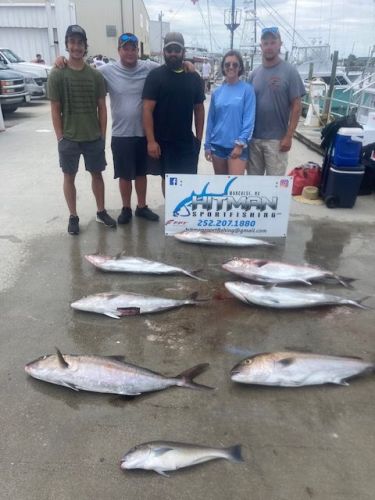 Offshore from Oregon Inlet
Inshore from Oregon Inlet
Corolla to Nags Head Piers
Corolla to Nags Head Surf
Corolla to Nags Head Sound
Ahhhhh Friday!! A little afternoon rain yesterday but then finally cleared up and it was very nice out. We are having some cooler conditions but I'll take it over that muggy heat any day. The fishing sounded like it was rough yesterday with a lot of seagrass pilling up on the line so I didn't hear much from anyone in fact I think everyone chose to shop yesterday the traffic was unbearable!! The piers this morning have pigfish, triggerfish, and bluefish so far. The nearshore boat and it was rough out yesterday but they did find ribbonfish, Spanish, blues, mullet, croaker, spot, and trout. The offshore fleet which many boats stayed home with a few going out and it was a bumpy ride and a tough day offshore. The tuna bite was not too good with only a few reaping the rewards even the tilefish took the day off. There was a 109# yellowfin caught and some mahi, wahoo, and a white marlin. But there were very few boats scoring those fish. Some captains did hit the towers on the way back in and did find some nice amberjacks and wahoo and even had tuna on it yesterday. It may not have been the perfect day but the overall action this month has been very good and July should be even better.

We do have charter openings this week call to set up yours.

Send your photos and questions to obxbaitandtackle@yahoo.com and we thank you.