Corolla Fish Report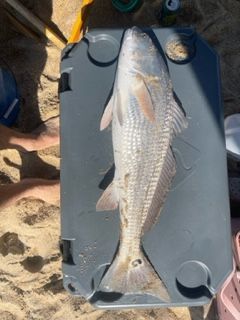 Offshore from Oregon Inlet
Inshore from Oregon Inlet
Corolla to Nags Head Piers
Corolla to Nags Head Surf
Corolla to Nags Head Sound
  Happy Independence Day!! Well we dont have a lot to report but we are still getting puppy drum along the beach and Tito sent in his photo of his 26" drum caught on mullet. I think things have been a little slow as we have had some colder water temps on the beach and Im not sure what they are today as there are no reports to pull from but the water will warm back up s soon as we have a wind change. Sea salp are still being a nusence along the beach loading up the lines and they are tempoary. We do have muller and croakers and reports of some Spanish. Nearshore boats finding good loads of triggerfish, Spanish and ribbonfish. All day boats hitting the gulf stream are bring back yellowfin, wahoo,mahi and billfish flags were flying.

We do have charters available call the shop for details.

Send your photos and questions to obxbaitandtackle@yahoo.com and we thank you. HAve a great 4th of July!!