Corolla Fish Report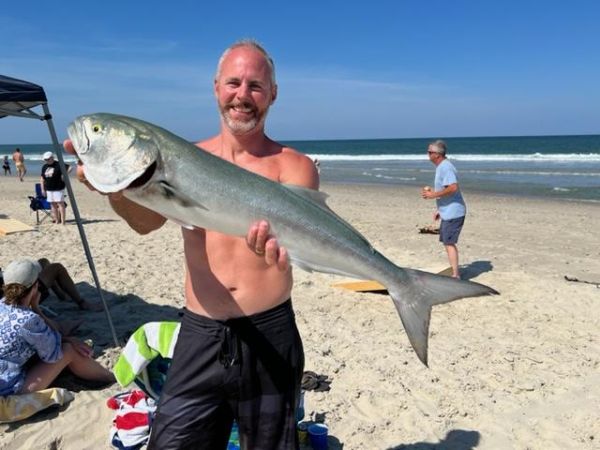 Offshore from Oregon Inlet
Inshore from Oregon Inlet
Corolla to Nags Head Piers
Corolla to Nags Head Surf
Corolla to Nags Head Sound
   Winner of the week!! The trophy goes to Scott Maclary from Lititz PA on his big bluefish caught on shrimp. He shared his photo with me yesterday and I  had to post it it is a nice catch so congratulations Scott!!
  In other action on the beach, we have seen some good size sharks this week along with some smaller ones. We are still seeing some good size to the puppy drum probably not as many as last week but a fair amount with mullet, croaker, spot, and a few unknowns. On the beach, it is starting to be the same old story you are either catching nothing or something and it still goes back to basics in location especially due to the topography of the beach from the last major storm really moved a lot of sand around and changed the beach from the way it was so you really have to look for suttle holes that may be around and you can go out at low tide and really take the time to look around. Shrimp is still working well but we did see an uptick on mullet and even squid this week. Bloodworms are in short supply if we have them we won't for very long as we do not get very many. The piers have been slow for the last couple of days with pigfish and flounder and croakers. Nearshore boats had a good day with bonita, ribbonfish, Spanish, bluefish, and false albacore. On the inside fishermen enjoyed catching drum and trout. The offshore action found a few mahi yesterday but hauled in mostly yellowfin and blackfin.

We have charters available for next week call and set yours up today!!

Send your photo and questions to obxbaitandtackle@yahoo.com and we will feature you in the next fish report and we thank you.