Corolla Fish Report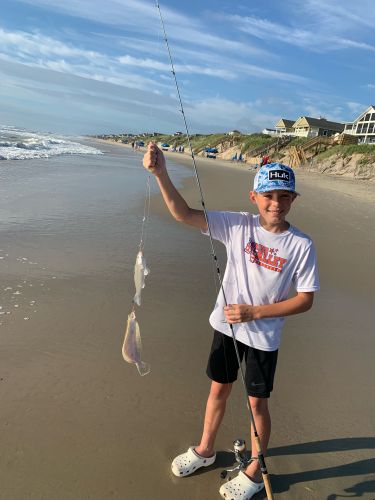 Offshore from Oregon Inlet
Inshore from Oregon Inlet
Corolla to Nags Head Piers
Corolla to Nags Head Surf
Corolla to Nags Head Sound
  Hats off to Reid Schuerha from East Liverpool, OH he has been out this morning and was catching a few mullet, flounder, and croakers so not a bad morning for this young man and he was gearing up to hit the beach again and I bet he gets something good tonight so great job Reid keep it up.
  We did have a report of a 30" drum this morning I am not hearing about a bunch of them but there is some fish coming in despite the rough conditions yesterday and somewhat today as well. It will improve each day from here on out. The piers were quiet this morning but did improve throughout the day with a 13.5 # blue off the end of Jennette's pier. The big boats should be running today so we should see some offshore reports tomorrow.

Some good news my shrimp boat captain called this morning and said that the shrimp were here finally!!
So folks that are interested in a crabbing and shrimping trip they are available just give us a call and we will get you all set up. Half-day to all-day charters are also available.

Send your photos and questions to obxbaitandtackle@yahoo.com and we thank you.