Corolla Fish Report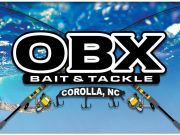 Saturday, August 13, 2022
Offshore from Oregon Inlet
Inshore from Oregon Inlet
Corolla to Nags Head Piers
Corolla to Nags Head Surf
Corolla to Nags Head Sound
  Winning Saturday!! Congratulations to 3 people today on saying the secret phrase to claim their 10% off their entire purchase. You still have a chance to win if you read the fishing reports the contest will run till Tuesday.
  Well we are just getting started for a new week and the wind finally has switched direction and the water is warmer. I did hear there was a school of bluefish out there yesterday with some larger fish jumping but out of casting distance. In shop report this morning of a puppy drum caught, so we are starting to see some improvement over what we have had for a month of croaker, mullet, spot and yes they are still here. Water temp around 75 today and the piers are having a better day as well with croaker, sheepshead, blues, and Spanish so a much better day than they have had the last several days. Nearshore boats had moonfish, ribbonfish, and some Spanish. Offshore had yellowfin today. The Alice Kelly tournament is starting for the next 3 days so if you are looking for a charter it is going to be tough but we do have some openings just call the shop and see what's available. The hint for the day is Clint Eastwood The weather is much nicer this week and it is absolutely perfect out.

Send your photos and questions to obxbaitandtackle@yahoo.com and we thank you and good luck!!