Corolla Fish Report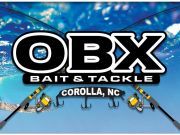 Thursday, August 18, 2022
Offshore from Oregon Inlet
Inshore from Oregon Inlet
Corolla to Nags Head Piers
Corolla to Nags Head Surf
Corolla to Nags Head Sound
  Absolutely a fantastic day out today if you like fresh air and sunshine. As far as fishing goes I have nothing for today all is quiet. I'm sure there are the usual fish bitting, but I'm not picking up any other news from the beach. In fact, I get more questions than I have answers for. How can I catch bigger fish, I'm not catching anything, what's a better bait? Now if I was aqua man I might be able to summon the fish to come and bite your line but I'm not. It's just how it goes sometimes all you can do is give it your best shot and get what you get plus there's always the fish market! There just seems to be something going on I had a phone call from my shrimp boat captain today and the shrimping has been very slow at this time when usually this is when you start to see the green tails come in and there aren't any at this time he is actually turning down trips so you don't go for just a boat ride to which you have to admire his honesty. Nearshore boats and offshore boats all is quiet with the exception of the tournament going on they are out there but the charters are slow and there is some good fishing to be had just no takers. So things are just beginning to slow down as kids start to go back to school and we are almost ready to go to start into the fall season which I am looking forward to that's when the big fish come back!! or at least I am hoping it has been a bit of an unusual season this year.

In the contest, so far no one has brought in a secret bill for their discount but we will see this next week if there are any tackers all you need is a bill that ends with a star at the end of the serial number to get a discount.

Charters are available!!

Send your photos and questions to obxbaitandtackle@yahoo.com and we thank you!!