Corolla Fish Report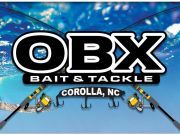 Offshore from Oregon Inlet
Inshore from Oregon Inlet
Corolla to Nags Head Piers
Corolla to Nags Head Surf
Corolla to Nags Head Sound
   Mind-numbing Sunday. You know what kind of a day it's going to be when the second question of the morning is what's out there and there is a school of fish in front of my house jumping around what kind are they? I'm speechless. The only good thing that comes from that is that we have something going on evidently which is good news I am sure we will figure this out. Waves at 2 feet with 74-degree water temp. Things are just getting started for the week so we hopefully will hear something from the beach. The tournaments end today so that will pave the way for the regular folks to hit the seas and get in some great fishing! Nearshore boats finding Spanish, blues, drum, and ribbons for now but things could heat up anytime I just have a feeling. Offshore filling the box up with yellowfin, wahoo, and some good loads of mahi blackfin and blue marlin.
  So far No one has turned in a dollar with a star at the end of the serial number to claim 10% off their purchase, maybe this is too hard but I will let it run for a couple more days and see if I can come up with something else so stay tuned.

We do have charter openings this week call the shop for details.

Send your photos and questions to obxbaitandtackle@yahoo.com and we thank you.