Corolla Fish Report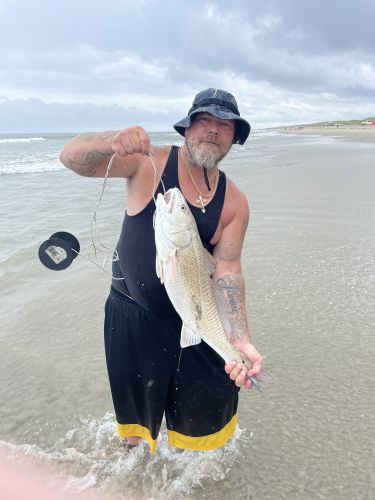 Offshore from Oregon Inlet
Inshore from Oregon Inlet
Corolla to Nags Head Piers
Corolla to Nags Head Surf
Corolla to Nags Head Sound
  Monday Mania!! Well, some good news Louie Garulle from Jersey City landed this nice drum on bunker and sent in his photo and that's how it is done very nice fish Louie. This brings up a good point bunker is not the usual bait for these fish but I get asked all day long what is the best bait? Just because I use one thing doesn't mean you can't use another. Really all the bait we carry does work and picking out two or three different baits is an excellent way to go you never know what they will hit on. That's fishing you take your best shot and go with it it either works or it doesn't. We also heard of some small pompano along the beach and there is a school of something out there but I guess they are not in the mood to bite I still don't know what they are But I will be out there on the beach Thursday to give it a try myself so maybe just maybe I will see those fish. Croaker, mullet spot, and bluefish have been caught today as well. Pier fishing was slow this morning but there was a big storm this morning so I wouldn't be out there either. The afternoon did pick up with a small cobia, sheepshead, rudderfish, blues, and pigs. Nearshore had ribbonfish, drum,moonfish, and Spanish. Offshore had yellowfin a few blackfin limits of mahi and white and blue marlin.

Charters are available call for details.

Send your photo and questions to obxbaitandtackl@yahoo.com and we thank you!!