Corolla Fish Report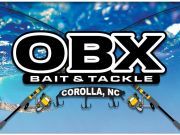 Saturday, October 8, 2022
Offshore from Oregon Inlet
Inshore from Oregon Inlet
Corolla to Nags Head Piers
Corolla to Nags Head Surf
Corolla to Nags Head Sound
  Good Saturday morning. Back into another change-over day and it's windy this morning and we will see a strong current. I missed you yesterday it was a beautiful day out and the fishing wasn't too bad. I wasn't in the shop so I didn't hear anything from our beach but reports from the piers and around were good. Mostly small fish but some big ones were defiantly in the mix. Big drum with puppy drum, black drum, trout, mullet spot, and pompano was caught. There was around 30 citation drum caught from the pier alone. Today is going to be much harder but we are in that change over the weekend so don't fret today is windy and rough and it will be windy tomorrow morning as well with the wind dining down later in the afternoon and the rest of the week is looking good till late Thursday early Friday before we see the weather changing so get out there and fish !!

Charters are available just call for details.

Send your photos and questions to obxbaitandtackle@yahoo.com and we thank you !!