Corolla Fish Report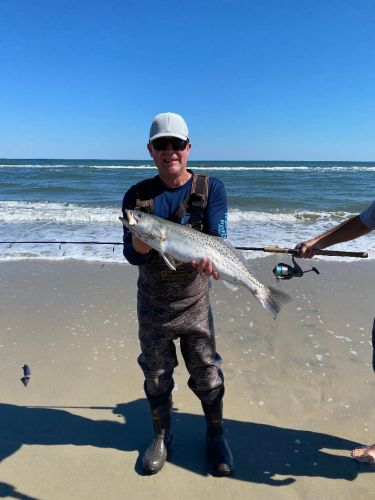 Offshore from Oregon Inlet
Inshore from Oregon Inlet
Corolla to Nags Head Piers
Corolla to Nags Head Surf
Corolla to Nags Head Sound
  Well, finally some news from the beach!! Congratulations go out to matt Brewer from Currituck landing this trophy size speckled trout in Corolla. I don't have a length or a weight on it but it is a monster. We have seen some nice size trout get landed these past few days along with puppy drum and bluefish some larger but most of them taylors. The black drum remains small for now but we have seen some good sizes to the kingfish. Well, we just had a walk-in report of a 30" drum so at least we are hearing about some nice catches. The water is much cleaner this morning and we have real flat conditions it is really calm this morning. Now being this calm I am not sure how the fishing is going to be but we will see. I only see a few folks on the piers this morning so that might just say something when it's rough out they are full. Nevertheless, it is beautiful out this morning so just enjoy the day no matter what your plans are. I am stuck in the shop but that doesn't mean you have to stay inside. Nearshore boats are catching bluefish and Spanish while the offshore guys had mahi, yellowfin and blackfin yesterday.

Charters are available call the shop for details.

Send your photos and questions to obxbaitandtackle@yahoo.com and we thank you.